Mariah Carey Finally Explains That Jennifer Lopez 'I Don't Know Her' Meme
She still doesn't know her.
---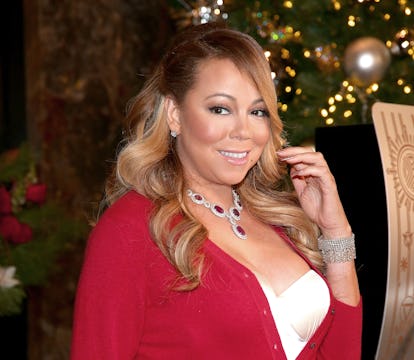 Paul Zimmerman/WireImage
Only Mariah Carey could manage to throw shade while defending throwing shade. The pop star, unofficially known as pop's biggest diva, finally explained a moment in the early aughts that has since lived on as a meme: When she was asked about Jennifer Lopez and replied "I don't know her."
According to Carey, she gave that reply simply because "I really was trying to say something nice or say nothing at all. I really was." When asked by Pitchfork whether or not she's seen the meme, she replied, "Some of them, yes. It is what it is. You have to embrace it."
Indeed, Carey has embraced it. Over the years, she's even incorporated it into her performance routine, as she once did when she spotted someone in the crowd of her show wearing a shirt that said her famous line: "I don't know her." Carey has answered plenty of questions about the meme since her famed interview with Taff, but her latest comments are the biggest attempt at an explanation that she's given so far.
When asked about it in 2009 for a radio interview, Carey replied, "I don't know the woman. There were things in the past that are from the past. I think there was more confusion courtesy of a record company issue."
When asked it later by TMZ back in 2016 while at an airport, she said, "I still don't know her."
Even later, when Bravo Host Andy Cohen pressed her "Do you know each other!?" she exclaimed, "No! You know what? I'm very forgetful. Apparently, I'm forgetful. Because I don't remember the fact that it was like 'Hi, I'm so and so' and then we moved on. If I have never had a conversation about you and someone asks me, I would be like 'I don't know them but they seem cool' or 'I don't know them'." Then Cohen asked, "Does she seem cool?," to which Carey replied, "I don't know her. Like what am I supposed to say?"
Lopez confirmed how forgetful Carey is, telling Wendy Williams in 2016, "She's forgetful I guess. We've met many times! I don't know her that well."
Anyway, take a look at all of Carey's greatest "I don't know her" moments below.