French Model Marie-Ange Casta Is Très Busy, Just Wants to Nap
The 25-year-old is nurturing an acting and modeling career and a two-year-old daughter. "Sometimes I'm like please, I just want to sleep!" she says.
---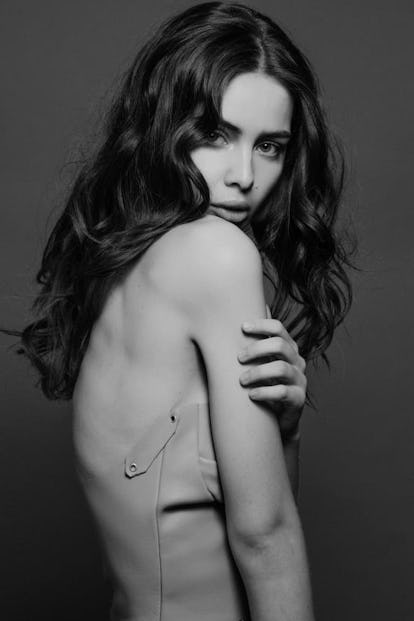 Growing up in Paris may sound like a dream to most, but for Marie-Ange Casta, the 25-year-old, sister of actress and model Laetitia, it was a bit too much: "When you are a teenager in Paris, even more when you are a girl, you are a bit stressed to go out and go to nightclubs," she said. "But in Corsica," she added, the island where she moved with her family at 13, "I felt really free." It wasn't long, though, before Casta was back in Paris, studying design at Yves Saint Laurent's alma mater and even opening her own gallery – before modeling and acting took over, that is. "I start a lot of things and I never finish them," she explained with a laugh. Sounding every bit the French socialite that she is, Casta said she is très, très busy with a hectic schedule of "pictures and campaigns and movies," though she can't go into a lot of detail; one film that will come out this summer is Edouard Baer's Ouvert la nuit, or Opening Night, with Audrey Tautou. Meanwhile, she's sticking with her contract at IMG Models, donning a Givenchy gown for her latest project, a video starring some of Madonna's go-to back-up dancers. Did she pick up any moves? Please.
How did you end up moving back to Paris?I wanted to be an art teacher, to tell you the truth, so I started to study art at the only university in Corsica. Really quickly, though, I said 'No, it's not my life at all, I do not have enough passion.' In ten years I will be in class with students who just don't care what I'm trying to teach them? No, it's not possible. So I left Corsica and went to Paris for fashion design at ECSCP, École de la Chambre Syndicale de la Couture Parisienne. I had a few months before it started, so I started to do photos and modeling again. I met with IMG and started just like that. One month after, I did a campaign for [Spanish clothing line] Mango.
Did you stay in school that time?Two years, so better than three months. [Laughs.] But at the same time, I started to do movies, and it was super complicated for me because ECSCP is an amazing school for designers – Yves Saint Laurent, for example, big names like that came from this school, so it's really intense. You start at 8:30 in the morning and finish at 6:30 p.m. and after you have work to do at home, and then at the same time I had to do pictures and campaigns and movies. The second year, I was like, 'I can't go back, it's too difficult.' It's a really selective school, and I felt like I was taking the place of someone who had a dream, who deserved it better than me. I was like okay, I have to do my thing, and my thing is the movies. So I stopped doing designing and worked only on cinema.
What was the first movie you worked on?It was a movie called Mineurs 27, directed byTristan Aurouet. It was a bit surreal because I didn't want at all to be an actress, to tell you the truth. I wanted to be an art teacher and then a designer, so for me, to be an actress was not my life. I did it not like a chore, but like, 'Okay, let's have this experience and it'll be fun and after it's done.' And then as soon as I was on set, I was like, 'Oh my god, this is my life. I feel myself when I hear 'action.' After that, I said I want one more, 'Oh please, one more, one more, one more!'
How do you manage your schedule with both of those careers, plus a two-year-old daughter?It's a bit complicated, to tell you the truth, but it's complicated for every mother in this world. I think when you are a mother, you have this strength to do everything. For me, as soon as I wake up in the morning, I'm like, I want my daughter to be proud of me. So how can I do things so that when she's older, she'll say, 'Oh yeah, that's my mom, she does everything, she takes care of me, she works, she tries to find her way to projects she loves, and she's still here for me!' I keep that in mind, and I try to find the energy to do everything – though sometimes I'm like please, I just want to sleep!
When you do have free time, what do you like to do in Paris?I love to eat. [Laughs.] Really. I love Asian food and it's too complicated to do like Korean barbeques at home, so I go to restaurants in the Opéra area. Or I have a glass of wine in a terrace in Saint Germain with cheese and smoke cigarettes, like a teenager again. I love that.
What about for shopping?I don't really have time – when I am free I like to play with my daughter at home and watch a Disney movie. I buy a lot online because it's way easier for me, and I love Le Bon Marché, because it's not really far from my home. But I love Acne jeans, and I love Chloé. Chanel has amazing accessories.
How did you like the Chanel show this season?It was amazing like every time – this was the third time for me. Karl really has no rules. I love his accessories, but I love to mix – I really love the basics and t-shirts and even shoes at H&M. I hate people who are in full looks, because in life it's ridiculous and impossible to wear a full look. I'm a mom, I work, I need to be comfortable in my clothes. Yes, I want to be stylish, but there is a price when you are too stylish because you can't walk or sit down, and it's not for me. I want to be able to run and sit down and play with my daughter. I need to live in my clothes. I don't want my clothes to make me feel like I'm in a cage.
Getting back to family, are you close with your sister, Laetitia? Do you talk about acting and modeling, since you both do both?We don't really talk about our jobs, because you know, when you see your sister, you want to talk about everything except your job. We like to talk about our lives in a private way and to share our children, because she has children too. We see each other as much as we can, but she works a lot, too, and she has three children, I have one, it's a lot of work.
Did she give you any tips when you were starting out?She doesn't tell me how to do things, but maybe looking at her was enough. The thing I keep in mind, though, is to be myself. Yes, she does things like that, and we are sisters, but that's it, we have different personalities and do things in different ways.
In what ways are you different?Well, I think I'm too impulsive and have too much energy. Sometimes I can't wait when I want to say something, and then I'm like 'Oh my god, no, please, come back!' [Laughs.] Even if I know how to act in a movie, in life, I am so bad. When I smile, it's a real smile, when I cry, it's a real cry. When I feel bad, you see it on my face. I can't hide it. Sometimes it's difficult to have too much spontaneity in this job.
Photos: French Model Marie-Ange Casta Is Très Busy, Just Wants to Nap
Marie-Ange Casta in "The Street" by Ady&Matt.
Marie-Ange Casta in "The Street" by Ady&Matt.
Marie-Ange Casta in "The Street" by Ady&Matt.
Marie-Ange Casta in "The Street" by Ady&Matt.
Behind the scenes of "The Street" by Ady&Matt.
Photo by Rayan Ayash for L'Officiel. Courtesy of IMG.
Photo by Harry Crowder for Russh magazine. Courtesy of IMG.
Photo by Stefano Galuzzi for Milk magazine. Courtesy of IMG.
Photo by Mario Sierra for Elle Spain. Courtesy of IMG.
Photo by Rayan Ayash for L'Officiel. Courtesy of IMG.
Photo by Florian Saez. Courtesy of IMG.
What was it like to work with Madonna's dancers on this video?It was totally amazing. It's like you arrive and you have 15 amazing dancers around you, and of course you don't know how to dance at all, so I was so impressed, I was like a child with a private show just for me. And it was my first time working with Givenchy, so it was a bit like a dream.
Did they teach you any good dance moves or tips?No. It was too complicated for me, come on!