Marie Antoinette's Pearl Pendant Sold at Auction for a Record-Breaking $32 Million
The diamond and pearl pendant dates back to the 18th century.
---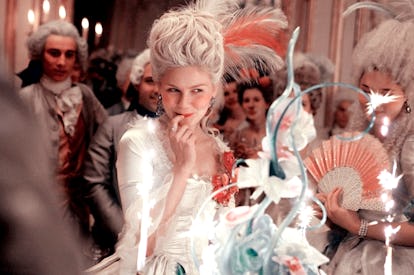 Sony Pictures/Everett Collection
Marie Antoinette could've fed the people of Revolution-era France a lot of cake with all the money her jewelry earned at an auction this week. According to Sotheby's, which hosted the auction at its Geneva outpost on Wednesday, the 10 pieces owned by the former French queen that were included in the collection sold for a collective $42.7 million. "Tonight we saw the Marie Antoinette factor work its magic. No other queen is more famous for her love of jewels, and her personal treasures, pearls and diamonds that survived intact the tumults of history, captivated the interest of collectors around the world," Daniela Mascetti, the European jewelry chairman for Sotheby's, said in a statement.
One royal piece in particular drove the bulk of those profits: a diamond and natural pearl pendant that was estimated in pre-bidding to earn $1 million to $2 million but actually garnered a whopping $36,165,090. With that massive take, "Queen Marie Antoinette's Pearl" set a new auction record for a natural pearl. The pendant features a large teardrop pearl that dangles from an oval-shaped diamond by a string of smaller diamonds arranged in a dramatic bow. Per Sotheby's, the piece was originally connected to a three-strand pearl necklace owned by the queen (which was also up for auction on Wednesday), with the largest stone separated from the rest of the pendant and serving as the necklace's clasp.
The 10 pieces included in the auction—part of a larger collection of items owned by the Bourbon-Parma family—found their way there by a somewhat circuitous route, according to the auction house. Before Marie Antoinette and her family were imprisoned by their subjects during the French Revolution, she loaded a trunk with her finest pearls, diamonds, and rubies and shipped them to Brussels, after which they were sent to her nephew, the emperor of Austria, in Vienna. Once Marie Antoinette's daughter was released from captivity, she regained ownership of her then-beheaded mother's jewelry before passing the pieces on to the Bourbon-Parma family, who reportedly count among their family tree Louis XIV of France, the Holy Roman Emperors, and Pope Paul III.
Besides the pendant, other belongings of Marie Antoinette on the auction block included a diamond ring engraved with her initials and containing a lock of her hair, a stunning yellow diamond dangling off a diamond brooch, and a set of pearl and diamond earrings.
Overall, the one hundred items in the Bourbon-Parma auction raked in a total of $53.1 million. Not only is that total more than seven times higher than the pre-bidding estimates, it's also nearly $3 million more than the previous auction record for a collection of royal jewels. That record was formerly held by the jewels of the Duchess and Duke of Windsor—Wallis Simpson and Edward VIII, who abdicated the British throne to be with her—which took in $50.3 million in 1987.
Related: A Rare Glimpse at the Prized Pearls and Jewels That Once Adorned Marie Antoinette's Head
A Rare Glimpse at the Prized Pearls and Jewels That Once Adorned Marie Antoinette's Head
A diamond pendeloque brooch, given to Princess Maria Pia of Bourbon-Two Sicilies by her husband's grandfather, Charles II of Parma, on the occasion of her wedding to Robert I. Estimated $25,000 – 35,000. Featured in the Royal Jewels from the Bourbon-Parma Family auction at Sotheby's Geneva, November 2018.

Michael Bowles/Getty Images for Sotheby's
A diamond pendeloque brooch, given to Princess Maria Pia of Bourbon-Two Sicilies by her husband's grandfather, Charles II of Parma, on the occasion of her wedding to Robert I. Estimated $25,000 – 35,000. Featured in the Royal Jewels from the Bourbon-Parma Family auction at Sotheby's Geneva, November 2018.

© Sotheby's
A necklace featuring diamond and 331 natural pearls that belonged to Marie Antoinette, Queen of France, estimated $200,000 – 300,000. Featured in the Royal Jewels from the Bourbon-Parma Family auction at Sotheby's Geneva, November 2018.

Michael Bowles/Getty Images for Sotheby's
A necklace featuring diamond and 331 natural pearls that belonged to belonged to Marie-Antoinette, Queen of France, estimated $200,000 – 300,000. Featured in the Royal Jewels from the Bourbon-Parma Family auction at Sotheby's Geneva, November 2018.

© Sotheby's
A diamond bow brooch featuring a 6.89-carat Burmese ruby, given to Archduchess Maria Anna of Austria by her father to mark the births of her two sons, estimated $200,000 – $300,000. Featured in the Royal Jewels from the Bourbon-Parma Family auction at Sotheby's Geneva, November 2018.

Michael Bowles/Getty Images for Sotheby's
A diamond bow brooch featuring a 6.89-carat Burmese ruby, given to Archduchess Maria Anna of Austria by her father to mark the births of her two sons, estimated $200,000 – $300,000. Featured in the Royal Jewels from the Bourbon-Parma Family auction at Sotheby's Geneva, November 2018.

© Sotheby's
A diamond pendant featuring a natural pearl, estimated $1,000,000 – 2,000,000. Featured in the Royal Jewels from the Bourbon-Parma Family auction at Sotheby's Geneva, November 2018.

Michael Bowles/Getty Images for Sotheby's
A diamond pendant featuring a natural pearl, estimated $1,000,000 – 2,000,000. Featured in the Royal Jewels from the Bourbon-Parma Family auction at Sotheby's Geneva, November 2018.

© Sotheby's
A diamond girandole earring, given to Robert I by his grandmother, Maria-Teresa of Savoy, the Duchess of Parma, estimated $150,000 – 250,000. Featured in the Royal Jewels from the Bourbon-Parma Family auction at Sotheby's Geneva, November 2018.

Michael Bowles/Getty Images for Sotheby's
A pair of diamond girandole earrings, given to Robert I by his grandmother, Maria-Teresa of Savoy, the Duchess of Parma, estimated $150,000 – 250,000. Featured in the Royal Jewels from the Bourbon-Parma Family auction at Sotheby's Geneva, November 2018.

© Sotheby's
A diamond parure featuring 95 diamonds, including five solitaire diamonds that belonged to Marie Antoinette, Queen of France. Made for Louise of France the granddaughter of Charles X, King of France and mother of Robert I, Duke of Parma. Estimated $300,000 – 500,000. Featured in the Royal Jewels from the Bourbon-Parma Family auction at Sotheby's Geneva, November 2018.

Michael Bowles/Getty Images for Sotheby's
A diamond parure featuring 95 diamonds, including five solitaire diamonds that belonged to Marie Antoinette, Queen of France. Made for Louise of France the granddaughter of Charles X, King of France and mother of Robert I, Duke of Parma. Estimated $300,000 – 500,000. Featured in the Royal Jewels from the Bourbon-Parma Family auction at Sotheby's Geneva, November 2018.

© Sotheby's
A diamond brooch featuring a 30.7-carat sapphire from Ceylon, given to Archduchess Maria Anna of Austria by her mother on the occasion of her marriage, estimated $150,000 – 250,000. Featured in the Royal Jewels from the Bourbon-Parma Family auction at Sotheby's Geneva, November 2018.

© Sotheby's
A necklace featuring diamond and 331 natural pearls that belonged to belonged to Marie-Antoinette, Queen of France, estimated $200,000 – 300,000. Featured in the Royal Jewels from the Bourbon-Parma Family auction at Sotheby's Geneva, November 2018.

Michael Bowles/Getty Images for Sotheby's
A pair of natural pearl drops, estimated $30,000 – 50,000. Featured in the Royal Jewels from the Bourbon-Parma Family auction at Sotheby's Geneva, November 2018.

© Sotheby's
A ring featuring a 2.44-carat diamond, given to Archduchess Maria Anna of Austria by her father to mark the births of her two sons, estimated $120,000 – 180,000. Featured in the Royal Jewels from the Bourbon-Parma Family auction at Sotheby's Geneva, November 2018.

© Sotheby's