Spring Training
Marie Purvis, a trainer who developed the Nike Training Club program, shares her top tips for achieving a personal record and just making the process less painful.
---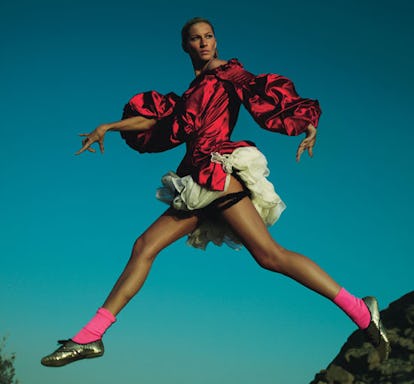 Photographer: Mert Alas & Marcus Piggott Stylist: Alex White
As an outdoor runner, I've slogged through this endless winter, donning a hat and gloves on days when I should have been celebrating spring. Luckily, I've had some serious motivation to keep me going: the upcoming, inaugural Nike Women's Half-Marathon in Washington DC on April 28th. It won't be my first time at the rodeo, so to speak, as I've done three half-marathons before. But having never trained with much of a goal beyond finishing those 13.1 miles—and let's be honest, that will ALWAYS be my ultimate goal—I chatted with Marie Purvis, a trainer who developed the Nike Training Club's program, to see if I could up my game. Here, some of Purvis' top tips for achieving a personal record and just making the process less painful.
Don't forget about your back: Purvis has her clients weight train about twice a week. And while her prescription hits the areas you'd expect—stabilizer and lateral muscles in the lower body, glutes—she also recommends focusing on the torso. "I do a lot of back work," she says. "People's posture is really poor, in general. And if your posture is poor, your running form is going to be poor."
No one's grading you, but think bell curve: Many training programs encourage building up distance, with the longest run a week or two before race day. Not Purvis. "I always do a bell curve. You start at a low point, you work your way up to that pinnacle mileage—two 13 or 15 mile runs, two weekends in a row—and then taper down," she says. "You know your body can sustain the miles but you're able to fully recover by race day."
Mix up your surfaces: "The best thing is to run on a dirt trail sometimes. And I recommend doing speed work on a track instead of a road because people land harder on their feet when they're increasing their speed, so it's nice to have that extra cushion," says Purvis. "Get your long runs in on the asphalt because that's what you're going to be racing on."
Hills are always good: "Even if the course is flat, you're going to be a much stronger runner from running hills," says Purvis. "Hill training is interval training. You're strengthening and then building endurance under a lot of tension."
Forget the bottomless pasta bowl dinner: "That whole carb-loading thing is a total old wives' tale," says Purvis. "The best meal is 40% lean protein; 30% complex carbohydrates, so not pasta, but quinoa, brown rice or a sweet potato; 10% fat; and 20% veggies." Purvis' preferred meal is grilled chicken, sliced avocado, a whole sweet potato sans toppings and steamed veggies.
No need to go crazy on the GU Energy gels: "For a half-marathon, you want to plan on getting through the whole race without snacks. You should be able to get everything you need to fuel you in your morning breakfast," says Purvis. She does caution that it depends on how long you're running: "If you're two hours and fifteen minutes or longer, you definitely need GU."
Try to refuel post-race, even though you'll feel more like hurling (my personal experience): "As soon as you cross the finish line, drink some water. You're not going to be hungry, but if you can force yourself to eat a banana, that's great. It will prevent any headaches and the sugars and carbs will be absorbed really quickly," says Purvis. "If you can eat a full, high protein meal within an hour of finishing, you're going to feel like a million bucks."
Photographed by Mert Alas and Marcus Piggott. Styled by Alex White.