Marine Serre Admits Everything Is Terrifying Right Now
No future. No nostalgia. Just the terrifying present...and great clothes.
---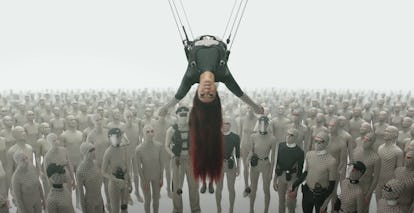 Fashion, as an industry, prides itself on always being of the moment, but most labels don't quite seem to know how to approach this particular one. The messaging for the better part of shows or presentations that have taken place since the onset of the global Covid-19 pandemic have either been to evoke warm nostalgia or to fast forward to an imagined, optimistic future.
To be fair, one could say that not wanting to think about the present at all is the most "of the moment" thing possible. We're doom scrolling through Twitter every night, do we necessarily want to see those horrors reflected when wake up and see what happened at Paris Fashion Week? Though, you'd have to imagine at least someone would try.
Enter Marine Serre, the Paris-based designer whose sustainability-minded practices and increasingly omnipresent signature crescent moon pattern has made her a favorite among celebs like Beyoncé and a darling of fashion insiders.
The designer, who had only recently established herself as a regular on the Paris Fashion Week calendar, chose to forgo a runway show and instead presented a chilling short film titled "Amor Fati." That's a Latin phrase that roughly translated to "love of one's fate." The stoic sentiment: everything that happens in life, good or bad, has its purpose.
The thirteen-minute film opens on frequent house muse Juliet Merie, here presented as a figure whose gender ambiguity recalls that of a naked Ken doll, splayed out on a clinical white table. Set to a sparse score by French musician Pierre Rousseau, Merie is poked and prodded by a parade of silent figures, and eventually tattooed in Serre's defining print. After emerging from the procedure, Merie is met by Iranian-Dutch musician Sevdaliza and they set off on a visit to various distinct sects with some light body horror interspersed along the way (trigger warning for those who find tentacles particularly chilling). Eventually, Sevdaliza leads Merie back to the white table where the horrors begin again.
In other words: there is no looking back. There is no looking forward. There is no escaping the terrors of the current moment. There is nothing but right now, and isn't that the message fashion is always supposed to push, one way or another?
There is some irony, however, to the fact that few young designers in the business seem to have quite as bright as future as Serre. Not only has Beyoncé helped put her on the map, but she's also claimed Dua Lipa, Kylie Jenner, Tracee Ellis Ross, and, just recently, Wendy Williams as fans. Though, that may be because Serre seems to understand the moment better than most. Yes, the repetition of the crescent moon motif is a brilliant stroke of the kind of instantly recognizable branding increasingly required for all brands' bottom line right now, but "Amor Fati" is the latest example that Serre's diagnosis of the present is more than pattern-deep.
Related: For Marine Serre, Upcycling Isn't Just Some Sustainability Trend