Five Minutes with Mark Townsend
The legendary hair stylist dishes on the products he can't live without, giving Ashley Olsen the Carrie Bradshaw, and why he's over the lob.
---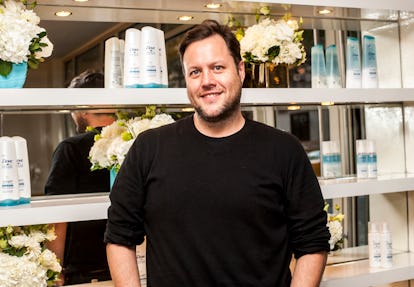 Celeb hair stylist Mark Townsend has transformed the tresses of Mary-Kate, Ashley, and Elizabeth Olsen, Dakota Johnson, and Reese Witherspoon (to name a few). And as Dove's Celebrity Stylist, he knows a thing or two about products, naturally. We caught up with the jet setting stylist at the brand's latest launch and asked him to spill on his worst mistakes, his best tips, and how to know if you're ready for bangs.
What are the 5 tools or products in your kit you can't live without? The R Session Pro Tools Double Barrel Iron—it's amazing. It's discontinued, but scour the Internet if you can find it. If you can't its because I buy them all. People ask me all the time how I get that texture on Ashley and Mary Kate—it's that iron. That iron and dry shampoo is almost all I ever use on them. So, number 2 would be dry shampoo, but I am very specific about the Dove dry shampoo. It's the best because it has a mixture of starch and powder so it really gets that volume in there. I've replaced hair spray with dry shampoo now—that one can do anything. I also spray it on my bobby pins before I put it in the hair as well—it creates a good kind of friction so they won't slide out. Harry Josh's hair dryer, I love. It really is so small and compact but it's so powerful and it cuts drying time in half. Spornette mixed bristle brushes—Sally Hershberger turned me on to them when I was her assistant in 1997 and I've been using the same brushes ever since. The last is the new product… There's a secret new Dove product that I got my hands on that I'm obsessed with. It's transformative; it's changed hair in a big way for me. It's more about healthy hair than being a styling product, but it's what I start every blowout with now. It'll be out in January…
What is the first hairstyle you remember falling in love with? Michelle Pfeiffer in any movie from the '80s. Everyone says Scarface, but for me it was Tequila Sunrise. I just did this whole press tour with Dakota Johnson and Elizabeth Olsen and pictures of Michelle Pfeiffer were the inspiration the entire time. It was right after Scarface, when she cut the bob. This is the hairstyle that made me want to be a hairstylist.
And you're still into it? To this day. Look at my clients; it's always like that.
What are you currently obsessed with? Music-wise, Ryan Adams' cover of Taylor Swift's 1989—I can't stop playing it! I'm also super into art museums right now. I didn't even realize until very recently I'm so incredibly inspired by certain brushstrokes of certain artists, specifically Jackson Pollock. I even did like a side by side of van Gogh's "Starry Night" with this hairstyle I had done on Elizabeth Olsen and it really looked similar. I didn't even know going into it, but it was just in my head. I'm never in New York without stopping by MoMA even for like an hour. I love to go there by myself maybe put some headphones on and listen to music. I can really get lost in art and it's an exciting inspiration.
What is your biggest hair pet peeve? Misuse of products. It's really actually important to read the instructions on the bottle and what I see is with any kind of a spray, women hold the bottle too close to the head. It's a wet product, so coming out it needs a good 8-10 inches to dry before it hits the hair. So I tell my clients all the time if you want shine in your hair, either spray it onto like a Mason Pearson or on your hands and rake it through because you're distributing it evenly and you don't just need product on the top—you need it everywhere. Or overuse of hairspray—even for my red carpets, the most put together my hair styles ever are, I still want it to be touchable. There's nothing sexier than when a woman touches her hair. Even with updos, I want it to look like you could take one pin out and it will all come cascading down, even though there are 200 hair pins and like a pound of dry shampoo in there, I still want it to look soft and touchable.
What was your biggest hair disaster? There's one and I don't mind telling it and because it's so funny and it's impossible to find a photo (thank goodness). On one of the first trips we went to Tokyo with Ashley and Mary Kate, on the way there we all watched like an entire season of Sex and the City on the plane. And this was, I mean 12 years ago, this was before they were designing. So I said to Ashley, "I want to do that Carrie Bradshaw big, curly hair on you," and she's like okay! And it was the worst idea ever! I mean, she looked just like Carrie Bradshaw. It was big and curly and frizzy and fun all at the same time, but it was just dead wrong for her. It was SO wrong. Another one was for the SAG Awards with Cate Blanchett when she was 8 months pregnant. I thought it would be a good idea to give her waist length extensions, why not? And it was so hideous and so horrible. I mean, the dress was beyond—she wears pieces of art on the red carpet—and this hair was just dead wrong. She was already head-to-toe ready to walk out the door, the jewels on, the dress on, everything was on, and she looked in the mirror and I could see she wasn't 100% confident. I grabbed her stylist Elizabeth Stewart and Elizabeth held a cutting cape over her priceless gown as I razored all the extensions off. It turned into a really good look after that, so that was a missed disaster thank goodness.
Any others? Well, this was a fun one. The first time I went to the Toronto International Film Festival, my kit didn't make it. I took the red eye there so I didn't even have time to stop at a store and pick up a blow-dryer. I had to be in my client's room at like 7:00 a.m. and it was my first day ever meeting her. So I scoured the room had her come into to the bathroom. I used the horrible blow dryer attached to the wall, took the conditioner from the shower and used it like a cream, took the sewing kit from the bar and gave her an updo. It's something I could probably never recreate in my life.
Did she like it? She loved it! And I ended up working with her for 4, almost 5 years afterward. That's the fun part of my job. When you get pushed that hard, you can't just say I don't have tools—you're a hairdresser, dress it! Figure it out!
And what do you think is the best way for other people to recover from a hair disaster? I mean the good thing is, hair grows. But for haircuts and even color and everything else, make sure you have a great conversation with your stylist or your colorist. I love when people bring me a book of photos. Don't just bring me one picture of Gisele—she's Gisele! As long as a woman is realistic, she can really avoid disasters like that. Never sit in a stylist's chair and say do whatever you want. When I get someone ready for a red carpet event, I always ask, what do you feel like, what do you think we should do? Because it's a collaboration and a conversation between two people. I'm here just to facilitate what you want so I want to hear as much from you as possible.
What is your favorite hair cut/style for fall? The long shag! I love it! I'm bored of a lob. The lob was a trend because it should've been very accessible for every woman, but it can be quite matronly when not styled the right way. You know, if you know you're not going to spend 15-20 minutes in the morning even with an iron to put a bend in there or with a flat iron to make it really sleek and straight, it can look very normal and almost pedestrian. You go get a new style because you really want to feel more confident about yourself and you don't want to look like everybody else. But long shag, I just cut Lizzie Olsen's hair and I'm so into it.
Last question! You're also kind of associated with bangs, and bangs are never going to go away— Never!
—So the "Should I get bangs?" question is always there. How do you think someone can really decide if they're ready to cut or not? I'm not a follow the rules kind of hairdresser, except when it comes to bangs. It is a commitment, and not even in a you're-going-to-have-to-style-it-every-day way. When you do want to grow it out, it's going to take you a while. But there are so many tricks of doing fringe where you can start slowly growing them out—push it to the side and it's really about looking at your face shape. I always say to people, if you think have a round face, draw a circle and shade in where you need to do to turn it into an oval. A heart shaped face has a much wider forehead than chin so you need to cut those corners off. Like Reese Witherspoon, when she had those shorter, swept over bangs, it changed her face.
So it's a little bit about taking a risk? When I met Dakota, she didn't have her fringe and that fringe really changes her face too. The fringe just makes her look so effortless and cool; she doesn't have to do anything to her hair, it's just the bangs. And Lea Michele too, when she cut those bangs, it was almost life changing you know. And in the beginning it wasn't even a haircut, we clipped those bangs in. I'm a bang connoisseur, I love 'em!