Mark Wahlberg Hopes God Can Forgive Boogie Nights
He made the comments while standing next to a Catholic cardinal.
---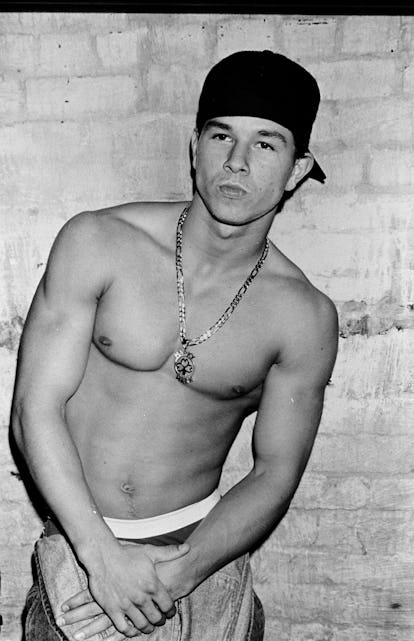 One day Mark Wahlberg was a controversial white boy rapper with a penchant for dropping trow and a reputation that made him something of a proto-Justin Bieber, except without quite as many hit songs. The next he was a respected actor well on his way to one of the most successful careers in Hollywood. It's not hard to pinpoint that exact date. It was September 11th, 1997, the day Boogie Nights premiered at the Toronto International Film Festival.
Though, it is hard to imagine a role that could quite as easily facilitate such a quick and effective career turnaround for Wahlberg as that of porn star Dirk Diggler. Looking back, it just seems like one of those things that was meant to be.
Yet, 20 years after the film's release, Wahlberg doesn't look back at the career kismet quite so fondly.
In fact, he hopes god can forgive him for doing the movie in the first place.
The revelation comes from a Chicago Tribune interview Wahlberg gave while in town to join Cardinal Blase Cupich at an event to encourage the youth back into the Catholic church.
"I just always hope that god is a movie fan and also forgiving, because I've made some poor choices in my past," Wahlberg said.
"'Boogie Nights' is up there at the top of the list," he said when asked if there was any particular role he'd prayed for forgiveness for.
Those familiar with Wahlberg's pre-Diggler bad boy days might also remember there are things other than movie parts he should be praying about. As a teen, Wahlberg was involved in multiple instances of racially-motivated violence, and spent 45 days in jail on assault charges. Though, he continually offers his public repentance for those incidents as well.
"I've never been shy about sharing my past and the bad decisions I've made and being affiliated with gangs, being incarcerated, so absolutely I think they can identify with me on a personal level, and that's why I've continued to try to do as much as I can to help young people," he told the Tribune.
This is the first time, however, that he's expressed some spiritual regret about Boogie Nights. Of course, we should note that Wahlberg gave the answer while standing directly next to the Cardinal. What other answer was he supposed to give in the situation? Rock Star?
What is it they say about how god works? In mysterious ways. Leonardo DiCaprio and, less famously, Joaquin Phoenix were both offered the part but demurred (in Leo's case it was because he already had Titantic scheduled). The perfect eventual alignment of role and actor certainly seems like it was almost cosmic. Besides, while the movie itself is at times graphic, it's not exactly like it's glamorizing the adult entertainment industry. Unlike Wahlberg's career, Diggler didn't wind up with an actual happy ending.
Related: James Franco Admits Directing Himself as Twins in HBO's The Deuce Was a Little Confusing
Greta Gerwig Explains Her Favorite Sex Scene From Start to Finish: