After Victoria's Secret, Martha Hunt Knew She'd Arrived
The 26-year-old has come a long way since her days in Charlotte, North Carolina.
---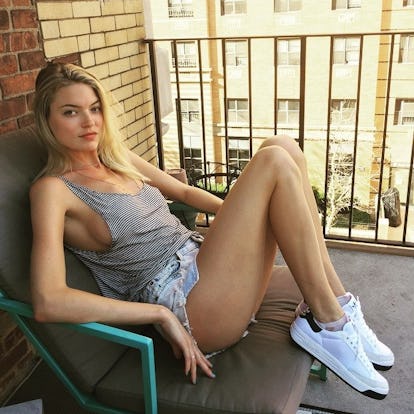 It's hard to ignore a Victoria's Secret model in the office, especially one who arrives with a full entourage like Martha Hunt.
When she dropped into the W offices on a recent rainy February afternoon, she looked calm and confident. There was no reason to worry. She had a publicist, an assistant, a makeup artist and hair person to make sure that not a strand of her straw-colored hair was out of place. Such are the perks of being an Angel.
"My first Victoria's Secret fashion show I was really nervous," she said, with hints of a Southern drawl. "I was just kind of figuring it out, because there's no rule book to tell you how to do everything. It kind of takes awhile to come into your own."
Like many Victoria's Secret models, Hunt, 26, is eager to come across as relatable. So she casually mentioned her love for the TV show Brooklyn 99 and extra-spicy Thai food. But in many respects, she is a girl next door, even if she doesn't quite look like the average girl next door.
Hunt was "discovered" at a model search in Charlotte, North Carolina in 2004, which she entered after being told by seemingly everyone around her she should give it a try. "I even had my appendix taken out, and the surgeon said to my parents, 'She should try modeling!" Hunt recalled. "At that point we were like 'Okay, maybe we could try it.'"
After winning the model search, she took some time to finish up high school, and then moved to New York to pursue modeling full time. In those early days, she walked for Givenchy Haute Couture, Prada and Chanel. That was all well and good, but it's hard to make it, as they say, through fashion shows alone. Put it this way: it's unlikely she showed up with an entourage to Prada. So when Victoria's Secret signed her in 2012, she was elated. "I'll never forget the actual day it was because it was 12-12-12. I was so excited and I thought it was a good sign that it was three numbers in a row," she said.
"There's so much to be admired in high fashion, the designers work so hard," she continued. "What I love about Victoria's Secret is that they represent strong, confident and empowered women. And as a model, I've always seen that as the ultimate goal." (A goal that comes with fielding lots of questions about her body – currently sculpted by Body by Simone and plenty of locally grown and organic foodstuffs, if you must know.)
Graduating from high fashion to Victoria's Secret is not only a good move for greater financial security, it means she's a heck of a lot more visible. Bear in mind that only a percentage of the population knows how to pronounce Givenchy. The 2015 Victoria's Secret fashion show, meanwhile, was watched by 6.6 million people on CBS – Hunt's third show overall, and her first as an official Angel.
"It was definitely different, also because I was closing the show," she said. "So that immediately just felt like more validation. Like okay, I've arrived, I'm here." She certainly is.
Photos: After Victoria's Secret, Martha Hunt Knew She'd Arrived
Martha Hunt, Victoria's Secret Fashion Show 2015.
Martha Hunt. Courtesy of Victoria's Secret.
Martha Hunt
Courtesy of Victoria's Secret
Martha Hunt. Photo by Sherly Rabbani
Martha Hunt keeps it casual with extra long sleeves.
Photo courtesy @marhunt.
Martha Hunt goes old school.
Photo by @marhunt.
Photographer: Sherly Rabbani & Josephine Solimene