Martin Scorsese Gave Jonah Hill Some Sage Advice For His Directorial Debut
The opening scene of Jonah Hill's directorial debut was actually inspired by a key scene in The Wolf of Wall Street.
---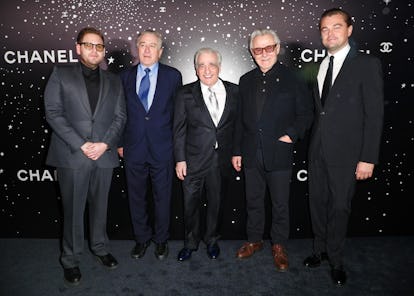 Matteo Prandoni/BFA.com
Martin Scorsese was all smiles at the eleventh annual Museum of Modern Art Film Benefit, which has previously celebrated the work of Julianne Moore, Quentin Tarantino, Pedro Almodóvar, and Tilda Swinton—and who could blame him?
The night began with appearances from Robert DeNiro, Leonardo DiCaprio, Chloë Sevigny, Natasha Lyonne, Drew Barrymore, and more Hollywood icons that expressed their adoration and appreciation for Scorsese's contribution to the cinematic art form at the annual Chanel sponsored Film Benefit, which honored Scorsese's five-decade-spanning career.
Scorsese has made so many films in the past 50 years that most attendees were hard pressed to name favorites from the inspiring filmmaker, but Lyonne admitted that she lives for King of Comedy, Spike Lee revealed his strong connection to Mean Streets and Raging Bull, and Sevigny praised The Age of Innocence and Leonardo DiCaprio's performance in The Wolf of Wall Street. "DiCaprio's performance, when he gets out of the Lamborghini on quaaludes is some of the greatest physical comedy I've seen in a long time," Sevigny said. "I always admire Leo's physicality and the way he moves; he's on fire in that movie."
During the Film Benefit presentation, which showcased supercuts of Scorsese's work, prerecorded well wishes from Cate Blanchett and Ray Romano, and speeches from his close friends and collaborators like DeNiro, who joked that the iconic director was "no Pablo Picasso," and DiCaprio, who shared a sweet anecdote of going to see Goodfellas with his father for the first time when he was just 15 years old. Jonah Hill revealed that one of his biggest inspirations for the opening scene of his directorial debut came from Scorsese.
According to Hill, during the making of The Wolf of Wall Street, there was a scene in which his character was to be punched in the face by costar Jon Bernthal. "Jon is a great actor, he's also a huge buff maniac. He's super intimidating and scary, and I had stayed in character that whole time with him. I was talking shit to him in the makeup trailer every day and I was like, Oh it's acting, nothing bad will ever happen," Hill admitted. After rewatching a few takes of the scene, Scorsese felt that the punch looked too fake, and prodded Bernthal to punch Hill in the face for real. "I look to my friend Leo, because he was sort of like my ambassador. I felt comfortable looking to him for things if I didn't wanna say something, because that's what friends do for one another," he joked. Only, DiCaprio slyly turned away, and Bernthal ended up actually punching Hill in the face for the scene. "Thank you very much, Leo, for making me a better actor?" Hill quipped.
"When I met with Marty before shooting [Mid90s], the opening scene of that film is two people fighting, an older brother beating up a younger brother. I was asking him how I would shoot that…and he just goes, 'You have 'em do it for real!' So they did it for real, and it's the opening of my first film," Hill said, referring to the scene in which stars Lucas Hedges and Sunny Suljic begin with a dramatic sibling brawl. "Overall, you know what you mean to me, and to people you've never met you mean as much."
Of course, when Scorsese walked up to the podium, he had a quick retort regarding that advice he gave Hill. "Jonah, by the way, that advice to do real punching in movies, that's not very good! It only works certain ways," he joked. "I wouldn't advise it to young filmmakers!"
Related: What Is Action Bronson Doing in a Martin Scorsese Movie?