Julianne Moore Rallies to End Gun Violence And Support Sexual Assault Survivors
Julianne Moore gave a rousing speech at the Museum of Modern Art's Film Benefit on the importance of listening to sexual assault survivors, as well as advocating for change to end gun violence.
---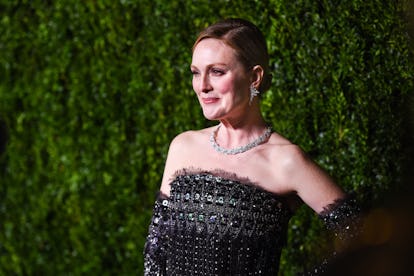 Billy Farrell/BFA.com
On Monday evening, Julianne Moore was honored at the Museum of Modern Art's 10th annual Film Benefit, which pays tributes to the champions of cinema. This year's benefit was presented by Chanel, once again, with Kristen Stewart and Todd Haynes attending as co-chairs of the event. The Film Benefit, which enables the growth of MoMA's film library has most recently honored Tom Hanks and Cate Blanchett.
With all of the rush of allegations of sexual assault across the entertainment industry, some celebrities have been skipping red carpets to avoid commenting on the subject. As a public figure who tends to be quite politically active on social media and elsewhere, Moore happily chatted with a myriad of reporters, sharing her thoughts on the importance of being vocal about abuse in Hollywood. "I think it's important to validate others' experiences. That's when we know that we are heard. That's when we know that we are human. It's been horrific for all of us to click on the paper every morning and see something else, but we're finally validating the experiences of these women," said Moore on the red carpet. "We're making them feel like they're not crazy. It's really important and the only way that this will stop is if we recognize that this behavior is criminal."
During the film benefit Moore was honored by speeches from a few of her close friends in the industry, including Stewart. "It's an odd combination to be awestruck and proud; those two things don't normally go together. I met you ages ago, but you're like my work mom. I love my mom, no disrespect at all, but I wish you were my mom!" shouted Stewart from the stage.
Actress and director Elizabeth Banks also took a moment to recognize Moore's commitment to ending gun violence and her partnership with Everytown for Gun Safety's Creative Council, a nonprofit which advocates for gun control. "I want to talk about how Julianne's bravery and fierceness have inspired me, not just as a fellow actor and as a mom, but as an activist," said Banks. She cited the mass shooting of twenty children and six educators at Sandy Hook in Newton, CT as the catalyst for not only her own commitment to ending gun violence, but Moore's advocating for gun control and stricter legislation as well.
"Here's the thing, promoting that simple idea takes guts," Banks continued. "When you say, out loud, "Hey, maybe we need regulations on automatic weapons!" you invite some very unwanted attention. I know, you get afraid. You get small and you get quiet. But Julianne knows that we celebrities are pack animals and that if she could just lead us, we might speak up." Banks pressed further on the issue of Moore's commitment to ending gun violence as she said, "As the founding chair of Everytown for Gun Safety's Creative Council, her job is to amplify the movement to end gun violence in our country that claims 33,000 lives annually. Julianne Moore saves lives. She is saving our freedom."
Moore closed the speeches with one of her own, wherein she reiterated the importance of validating our experiences and listening to one another. "We're social animals and we feel the most alive in the presence of others, in the reflection of others, and in the community that acknowledges our presence. We are living in very difficult times, where our very humanity feels threatened and dismissed by a leader who continues to demean, berate, ignore, and efface us all," said Moore, in a dig at Trump without even saying his name. "But I have truly been heartened by those who have spoken out, and our refusal to accept this behavior as normal," she pressed. "I believe that we are witnessing a time where we are learning that the more we validate and see one another's experiences, and add our voices to one another, the stronger we are as a human force and the more likely we are to effect lasting change, and rid ourselves of racism, gender bias, sexual assault and gun violence."
Related: Julianne Moore Will Suit Up as Gloria Steinem for My Life On The Road
Meryl Streep Inspired Julianne Moore to Be an Actress