Julianne Moore, Emma Stone, Laura Dern, and More Join Forces for Gun Control PSA
"The mass shooting in Las Vegas has all of us grieving, scared, and angry."
---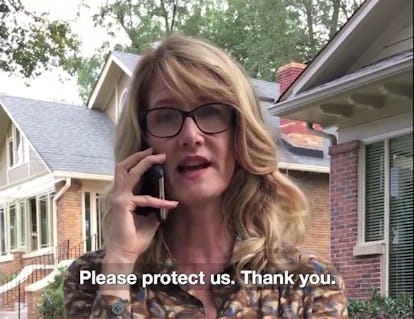 In the wake of the Las Vegas mass shooting this month, many celebrities have spoken out in favor of gun control. Now, Julianne Moore, Emma Stone, Elizabeth Banks, Melissa McCarthy, and many more appear in a PSA for the nonprofit organization Everytown for Gun Safety.
The video shows everyone from Moby to Jack Antonoff, Emma Stone, and Laura Dern urging viewers to call their representatives in Congress and oppose the SHARE Act, legislation that would roll back gun silencer safety laws. "The mass shooting in Las Vegas has all of us grieving, scared, and angry," Emma Stone says at the beginning of the video. Stone, Moore, Banks, and Bill Hader tell people to text the nonprofit for easy instructions that will link you to your representative. Adam Scott, Sheryl Crow, Anna Deavere Smith, Kathryn Hahn, and others then run through a script for the phone call that includes opposition to concealed carry reciprocity legislation.
Moore launched the Everytown Creative Council — an offshoot of Everytown that includes actors, writers, designers, musicians, and artists who support gun violence prevention — in 2012 following the Sandy Hook, Connecticut, mass shooting. The Creative Council lists 146 members on their website, including Kim Kardashian West, Jennifer Aniston, Steve Carell, Spike Lee, Lin-Manuel Miranda, and more. When she first launched the initiative, Moore said she simply called upon her friends to spread the word. "I was going through my address book alphabetically. That's all I did. 'Please, are you interested,' and the response has been overwhelming," she told People. "I'm so, so thrilled. Everybody feels this way about this issue."
Since the Las Vegas shooting, Ariana Grande, Gigi Hadid, Lady Gaga, and Emmy Rossum were among those who called for the incident to be labeled as terrorism, while others including John Legend, Ellen DeGeneres, and Olivia Wilde responded to the tragedy with a plea for stricter gun control laws.
Watch the PSA, below.
Related: Jimmy Kimmel's Indignant, Emotional Response to Vegas Shooting Was the Best Monologue on Late Night TV