Checking in with Cult Favorite Designer Maryam Nassir Zadeh
The designer has a serious following for her shoes — and her style.
---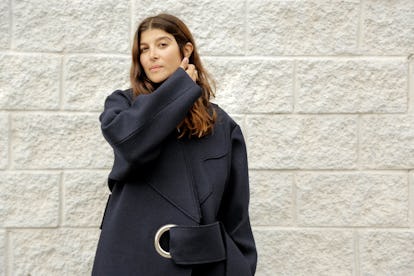 Since 2008, Maryam Nassir Zadeh's namesake store on the Lower East Side has been a favorite among the downtown set. As it should be — her curated selection includes fresh takes on color palette, texture, and construction from designers like Apiece Apart and Eckhaus Latta. It's her own footwear collection, however, that's gained the real cult following — you can't walk between Houston and Canal streets without seeing a pair of her signature Roberta pumps or suede mules. (It helps that her own personal pared-down style is so appealing.) Here, the designer talks inspiration, Cuba, and her plans for expansion.
How did you get your start in fashion, and why did you pursue accessories? I got my start in fashion early on in my 20s. Upon graduating from Rhode Island School of Design with a bachelor of arts in textiles, I started a clothing line of one-of-a-kind t-shirts and dresses. I had that clothing collection for about four years and then decided to go back to school at Parsons. After graduating, my fiancé at the time (and now husband) had an idea for us to open a store together. I focused on the store and styling for the next four years. I always wanted to design again but was waiting for the timing to feel right. Finally, in 2012, I started an in-house collection of clothing and shoes. I decided to design accessories because I was already comfortable designing clothing and I wanted to make a complete story for the brand.
Where do you find inspiration? I get my inspiration from many difference sources. I love shapes from the past, especially the '70s, '80s, and '90s. I often get inspiration from old photos of my mother and grandmother. I also get more contemporary inspiration from my friends who I consider my muses. I look at everything around me and draw from shells, sculptures, photographs, textiles and art.
You have such a beautiful store. Where do you source the furniture and objects you decorate the store with? I'm a natural collector and editor. I feel I'm always evolving the collection by buying and selling to refine the collection for my current taste every few months. We often travel and will bring back pieces from our trips. Recently, we have collected from Mexico, Cuba, Brazil, Italy and Turkey–many of the pieces I have are from flea markets.
Has there been a favorite moment since you launched? My favorite moment since I launched was traveling to Cuba for inspiration for the fall 2015 collection video for Style.com with my husband, Uday Kak, and best friend, the artist Ana Kras. I asked them to co-direct my film as they are both my favorite photographers. Neither had experience with film cameras or editing which made the process so much more raw and pure. When we arrived in Cuba, they found cameraman to assist. It was such a beautiful adventure in casting and scouting locations. They captured intimate locations in Havana: a graphic wall besides a sports stadium, a racquetball court where modern dance spontaneously occurred. The last scene was Ana dancing between old cars. It was a dream trip and dream project and it made me realize how lucky I am to do what I love and share it with the people closest to me.
What accessories trends are you seeing among women right now? I think women want to wear accessories that are not flashy but make them feel strong and confident. I can see a future trend being a stronger emphasis on materials, to make these classic shapes women are gravitating to more unique and special.
How would you describe your personal style? My personal style leans towards the classic and clean side but I like to push that with unique color combinations and textures to make my look more unexpected. My personal style may look put together or dressed up at times but in reality it's fast, thrown together and easy.
Let's talk Fall 2016. Where did you get started, and what did you want to communicate? I started with the perfect boots that were missing in my personal wardrobe. I wanted to bring shapes that are classic and flattering but also bring forward something not easy to find like heeled lace-up boots and two-toned color boots.
What are your plans for the future? Ideally I'd like to open a creative space devoted to design, start designing handbags and open an L.A. store. I don't have any specific dates but I am starting to think about future plans and how I can organically integrate these three things. I love to juggle many things but don't like to begin anything unless idea feels natural and not overwhelming!
Photos: Checking in with Cult Favorite Designer Maryam Nassir Zadeh
Maryam Nassir Zadeh. Photo by Krista Lewis.
Inside Maryan Nassir Zadeh's shop.
Maryam Nassir Zadeh. Photo by Krista Lewis.
Inside Maryan Nassir Zadeh's shop.