Matilda Lutz Goes Bold
The young actress stars in the horror reboot, "Rings," out this spring.
---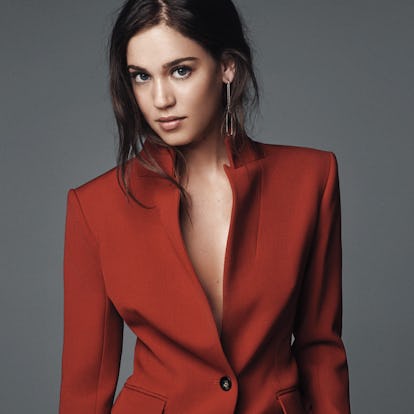 Photographer: Steven Pan Stylist: Jessica dos Remedios
Growing up in Milan, Matilda Lutz was almost cripplingly shy. "My mother told me acting classes would help me to just talk to people," says Lutz, 23. "But the thought of being in front of them, acting—I wanted to kill myself!" Now, more than a few Hollywood starlets would kill to be in her place. Next year, Lutz will lead Rings, a reboot of The Ring, the $400 million horror franchise that starred Naomi Watts. Lutz recalls her terror after seeing the original, which came out in 2002 and featured a deadly VHS tape (in the update, it's a viral video). "I remember that little girl," she says of the film's creepy antagonist. "And now there's a picture on my phone of her strangling me!"
In Rings, which hits theaters next spring,Lutz, whose American father and Italian mother are former models, plays a college student whose father dies suddenly, unleashing a flood of ghoulishness. "She's not the typical American teen," Lutz says. "She's kind of a loner." But it's clear that the actress who plays her has gotten over her early timidity. Lutz aced the litmus test of any horror starlet worth her ketchup splatter—the movie scream—off the bat. "The first time I screamed on set, the producer was like, 'Wow! We thought we were going to have to spend hours on that.' "
Hair by Hiro + Mari for Sachajuan at Bryan Bantry; makeup by Pep Gay at Streeters London; digital technician: Robert Cass; photography assistant: Roy Beeson; fashion assistant: Bryan Villalobos.