Matt Damon Just Shared So Many Unfortunate Opinions on Sexual Misconduct
The actor took it upon himself to express his opinions on the punishments that men like Harvey Weinstein and Louis C.K. have received during a ABC News interview Thursday night.
---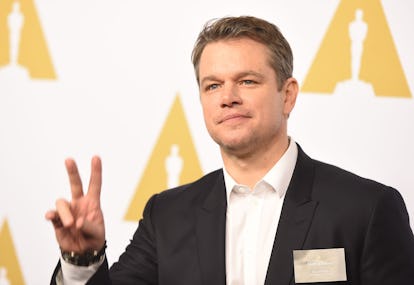 Kevin Winter/Getty Images
In the days following the initial exposé of the former Hollywood mogul Harvey Weinstein as a predator, as what turned out to be the tip of an iceberg of misconduct was emerging, many wondered how those close to Weinstein could have stayed silent about his misbehavior. In some incidences, though, they actually aided Weinstein in covering things up, as was alleged about Matt Damon in helping to kill a 2004 version of the exposé—something he then vehemently denied, as well as any knowledge of Weinstein's predatory behavior at all.
Except, all of the sudden, about a week later, it turned out that Damon did know about the allegations that Weinstein had harassed Gwyneth Paltrow, which he revealed about to ABC News while seeming to defend both himself and Weinstein: "Ben [Affleck] told me, but I knew that they had come to whatever, you know, agreement or understanding that they had come to, she had handled it. She was, you know, the first lady of Miramax. And he treated her incredibly respectfully," he said.
Fast forward a couple of months, and it's become apparent why he has been so cagey about all of this: It appears like Matt Damon doesn't actually understand the gravity of—or what even constitutes—sexual misconduct and assault. That much is clear from another interview with Damon on ABC News, this time with Peter Travers on Thursday night, where the actor took it upon himself to express his opinion that there is a "spectrum of behavior" when it comes to sexual misconduct—and then continued to illustrate that spectrum, despite repeatedly saying that he wasn't familiar with every case, by placing everyone from Weinstein to Louis C.K. to himself somewhere on it. This did not go over well, as was foreshadowed by his fumbling preamble: "All of that behavior needs to be confronted, but there is a continuum. And on this end of the continuum where you have rape and child molestation or whatever, you know, that's prison. Right? And that's what needs to happen. Okay? And then we can talk about rehabilitation and everything else. That's criminal behavior, and it needs to be dealt with that way. The other stuff is just kind of shameful and gross."
"The other stuff," Damon seemed to realize, was a bit vague, so then he started going in on specific powerful men who've recently been outed for abusing their power—even though he began his take on Louis C.K. by saying, "I don't know all the details. I don't do deep dives on this," which usually means one should stop talking. Nevertheless, he persisted, seeming to redeem the comedian for systematically coercing women into watching him masturbate: "When [C.K.] came out and said, 'I did this. I did these things. These women are all telling the truth.' And I just remember thinking, 'Well, that's the sign of somebody who—well, we can work with that.'"
His verdict, then, on C.K.'s punishment? "I'm a fan of his, but I don't imagine he's going to do those things again. You know what I mean? I imagine the price that he's paid at this point is so beyond anything that he—I just think that we have to kind of start delineating between what these behaviors are."
And delineate Damon did! As helpfully compiled by Vulture, here's a list of a few more actions (or inactions) that would have been taken against these alleged predators and abusers if we were for some reason under the jurisdiction of Judge Damon.
Al Franken
Of the former senator of Minnesota, who recently resigned after allegations from several women about sexual misconduct: "I personally would have preferred if they had an Ethics Committee investigation, you know what I mean? It's like at what point—you know, we're so energized to kind of get retribution, I think. When you see Al Franken taking a picture putting his hands on that woman's flak jacket and mugging for the camera, going like that, you know, that is just like a terrible joke, and it's not funny. It's wrong, and he shouldn't have done that … But when you talk about Harvey and what he's accused of, there are no pictures of that. He knew he was up to no good. There's no witnesses. There's no pictures. There's no braggadocio … So they don't belong in the same category."
Harvey Weinstein
Of the mogul and producer whom Damon has worked with on multiple films, including Good Will Hunting, which he won an Oscar for: "Nobody who made movies for him knew … Any human being would have put a stop to that, no matter who he was. They would've said absolutely no. You know what I mean? … I knew I wouldn't want him married to anyone close to me. But that was the extent of what we knew, you know? And that wasn't a surprise to anybody. So when you hear Harvey this, Harvey that—I mean, look at the guy. Of course he's a womanizer … I mean, I don't hang out with him."
Casey Affleck
Of the actor whom two women have sued for sexual harassment, which Damon does not seem to know about: "It depends on what the accusation is. It depends what's going on. If it's a friend of mine, I'm always talking to them. I know the real story if it's my friend."
Himself!
Of himself, speaking hypothetically of course (except, really, why do this at all?): "Ten years ago, you made a claim against me and I had a big movie coming out, okay? I have $100 million or I have a movie that is personally important to me coming out, and close to the release of that film, you say, 'Matt Damon grabbed my butt and stuck his tongue down my throat.' We would then go to mediation and organize a settlement. I'd go, 'I don't want this out there. Peter's going to go out and talk to the press and run his mouth, and it's going to be overshadowing the opening of this movie. How much money do you want?' The lawyers would get together, and they do this cost-benefit analysis, and they'd go, 'Oh, this is what it's worth.' And I look at the number and go, 'Okay, I'll pay it, but you can never talk about this again. You're f—ing lying about this, but never talk about this again.'
Damon then rounded things out with an optimistic declaration that's unfortunately all wrong: "With social media, you know, and a Twitter account, you have the same platform as the New York Times now, so there aren't secrets. It's harder to do this type of thing."
And somehow, Matt Damon had even more to say: "I would like to point out, though, that even though it feels like there's this avalanche of men … Well here's my optimistic spin, this is like one percent of the guys who are losing their careers. It's not everybody. It just feels like it." It certainly does.
Related: Ranking the Absolute Worst Apologies by Men Accused of Sexual Assault Post-Harvey Weinstein in 2017
"I Will Not Be Silent": Hollywood's Biggest Names Pledge to Speak Their Minds: