Maurizio Cattelan Explains How to Plagiarize Artfully
The artist and provocateur has an evolved idea of originality, as seen in the new group exhibition he curated in Shanghai.
---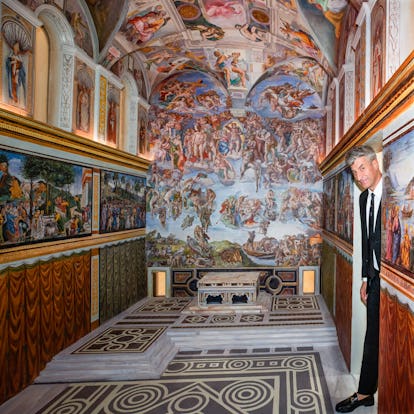 It's been said that originality is simply plagiarism gone undetected—that's truer for some than others. The artist Maurizio Cattelan, for example, has long embraced the idea that there's nothing new anymore under the sun. To him, what is actually original is how one re-uses and re-envisions what's come before. And he's found a like-minded conspirator in Gucci creative director Alessandro Michele, who has an equal sense of humor about and creative relationship with the idea of copycatting. (He's countered accusations of plagiarism in the past by making those he was paying homage to in his designs, like Dapper Dan, into his collaborators.) Together, the two Italian provocateurs dreamed up "The Artist Is Present," a group exhibition at the Yuz Museum in Shanghai curated by Cattelan and underwritten by Gucci, that pokes at the soft belly of this at times very sensitive topic.
For the show, which opened October 11 and runs through December 16, Cattelan gathered over 30 artists (including Philippe Parreno, Sturtevant, Christopher Williams, Xu Zhen, and more) who debunk the dogma of originality from all different angles. That even goes for Cattelan's title for the show, which he of course ripped off from Marina Abramovic's landmark 2010 MoMA solo show (it's noticeable—and probably an in-joke—that she isn't listed among the artists in the Yuz exhibition). Here, Cattelan addresses our questions about his art trolling, in his typically evasive, arch, and (at times) illuminating way.
How did you and Alessandro arrive at the idea of this show?
It's hard to tell now how the collaboration started. It all seems a dream if seen from where we are now. Alessandro had this idea, that we should try to change our vision and judge about copying. I believe his thought was that if through designing fashion collections he can create and share new visions and concepts, why an art exhibition can't do the same? To try changing the world through your favorite language is a privilege, even if you don't succeed in doing so. When he came to me with this idea bloom, I can't help but doing everything possible to help it to grow safe and sound. And now, a garden is, in the end, of the audience, and I can't wait to see if they'll appreciate or disregard it. Every way is walkable and legit, of course.
Did you ask Marina whether you can borrow her title for this show? What did she say when you asked?
Every act of appropriation should not start with a question, but with a statement. In the parish where I spent all my childhood, the priest used to say: Ask for forgiveness, not for permission. I'm pretty sure that Marina shares the same vision and understands that to copy is to love. As a matter of fact, her Seven Easy Pieces were a kind of copy of previous works by artists she respected and she wanted to celebrate.
In your conversations with Alessandro about this show, did you find any difference between the way copying is regarded in art and the way it is regarded in fashion?
Copying is part of human activities since the very beginning of history, is the way in which we learn and evolve. In art this has always been very evident—think of all the masters' workshops, such as Michelangelo or Raffaello. The "after someone" is something that belongs to Renaissance, or even 14th century. Fashion, like any other creative activity, is governed by the same rules: we all are dwarfs on the giant shoulders, capable of looking forward only thanks to what preceded us.
Why do you feel that originality is overrated?
I believe we should get rid of the copyright-reigned world, where ideas coincide with property. An original art piece or an art piece copy is not interesting per se, but for the meaning they bring with them and for what you can do out of them.
Is crediting the original artist always essential to you?
Speaking about legal matters, of course it is. Speaking of the possibility to always credit everyone and everything that inspired you, sometimes it could very hard to tell your ideas from your experience and from others' ideas. How can one state the source of its creativity with absolute certainty? If it's true that my ideas are the sum of every experience I made and everything I saw, listened to, and dreamt until today, then how would it be possible to credit all those inputs correctly?
How do you feel about the legal limits on appropriation placed upon artists like Richard Prince?
His work questions every Western principle and law regarding the property of images and this is, of course, controversial, and for this same reason incredibly fascinating. Laws are done following our culture, so they're relative—what is illegal here, today, may not be illegal in other places, now or in the future. And if the law can change depending on the context, can an art piece on the long run change the law itself? This is what Prince's work is also about, and I wish I could have such an impressive statement myself.
Do you feel appropriation watchdogs like Diet Prada (who have collaborated with Gucci directly) good for the conversation or bad? In what way?
I must admit I can't say if it's good or bad, it's controversial. On one hand, I don't think it changes anything to know the sources of some inspirations; on the other hand, it's interesting to compare and contrast images and make you choose between what is said to be the original and what should be its copy. Generally speaking, I think Instagram is a land of experimentation that sometimes risks speaking to a very limited group of people.
You have related copying art to the way the contemporary world spreads ideas. Let's use fake news as an example: One outlet constructs a story that is nonfactual propaganda, and other outlets and peoples disseminate it and aggregate it. Considering this, do you feel that the artist who copies has to take responsibility for the content behind what he copies? Is there a moral obligation?
Moral obligation is very important out of the art discourse, and terribly dangerous if placed in the art discourse. Based on moral obligations, artworks can be censored and destroyed, and artists can be condemned for an idea. I don't believe it's the artists' role to take responsibility in this sense. As an artist, nuances are your duty. As an artist, you should avoid making things easy. As an artist, you should aim at suggesting contradictions, don't erase it or deny it, but let it in and embrace it. Otherwise, you're making propaganda, and that's equal to the death of the art.
I know that you have said in the past that, if you could, you would adopt answers other people have given in other interviews as your own. Have you copy/pasted anyone else's words here?
Oops! I did it again.