View From the Top
Max Mara toasts their collaboration with Renzo Piano and the Whitney.
---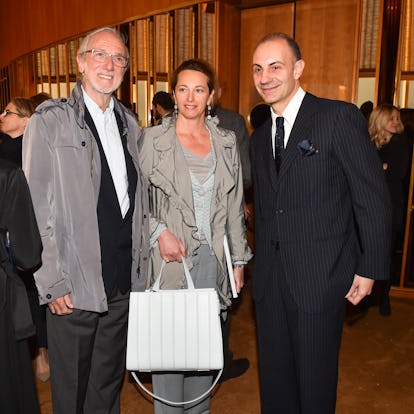 On Wednesday night, Max Mara celebrated the opening of the new Whitney Museum with the launch of their Whitney bag, designed by Renzo Piano Building Workshop. Standing amongst the crush of editors and collectors who clamored up to New York's Boom Boom Room for a bird's eye glimpse of Piano's new light-box, Maria Giulia Maramotti, the young scion of the fashion house, toasted the twilight with a friend. "I have so many friends here tonight, I feel overwhelmed with love," gushed Maramotti, the label's new spokeswoman and the evening's default host. "It's an incredible moment for me and the brand and of course history."
Indeed a lot of friends were present: Brooke Neidich, Laura de Gunzburg, and Casey Freemont, in addition to Piano and Max Mara's head designer, Ian Griffiths. The handbag stood on a pedestal high above its inspiration. "It's like big Whitney and little Whitney," said Griffiths, pointing out the undulating ridges on the bag, which imitate the museum's vertical ribs. "Both brands believe in high quality craftsmanship and design, so the collaboration was really quite natural. It's incredible to see all the pieces finally come together."
Photos: View From the Top
Renzo Piano, Milly Piano, and Luigi Maramotti. Photo by BFAnyc.com.
Brooke Neidich. Photo by BFAnyc.com.
Claire Distenfeld, Hassan Pierre, and Laura De Gunzburg. Photo by BFAnyc.com.
Casey Fremont Crowe. Photo by BFAnyc.com.
Elisabetta Trezzani, Ian Griffiths, and Maria Giulia Maramotti. Photo by BFAnyc.com.
Harley Viera-Newton. Photo by BFAnyc.com.
Joanne Leonhardt Cassullo and Beth Rudin DeWoody. Photo by BFAnyc.com.
View of the Whitney. Photo by BFAnyc.com.