Maye Musk Sometimes Keeps the False Eyelashes She Wears On the Runway
Elon Musk's 69-year-old model mom shares her beauty tips, accumulated over five decades in the fashion industry.
---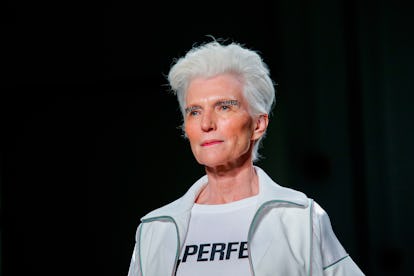 EDUARDO MUNOZ ALVAREZ/Getty Images
Backstage at the Concept Korea show—a collaborative runway featuring designers LIE by Lee Chung Chung and Greedilous, aimed at exposing South Korea-based designers to American audiences—Maye Musk was about to get her hair and makeup done. It was late Friday morning, the third day of New York Fashion Week Spring 2018, and the 69-year-old white-haired model (and, it must be said, mother of Tesla CEO Elon Musk) was slated to open the show that afternoon.
Even before landing a spot in the Concept Korea show, Musk proved a penchant for Korean design: Manhattan-based designer Yuna Yang, who grew up in Seoul, created a custom electric-blue pantsuit for Musk's first-ever Metropolitan Museum of Art Costume Institute Gala. (Musk attended the gala for "Manus x Machina: Fashion in an Age of Technology" with her son Elon shortly after she signed with IMG Models.)
"They use different fabrics and different colors, and they're willing to experiment," Musk observed of the Korean designers with whom she has relationships. "I just love working with them." For LIE later that afternoon, she would wear transparent film across her eyelids, reading "Perfectly" and "Imperfect" and pairing with her vinyl coat and t-shirt printed with "Imperfect" in block capitals; then, for Greedilous, a makeup artist would splash pink shadow across her lids, a pop of color that coordinated with her technicolor, tiered floor-length dress.
But first, backstage, Musk requested a Diet Coke. A publicist whisked away to track down the soda, returning moments later.
"There's no Diet Coke, Maye," she said. "Water's fine," Musk replied. After all, hydration—and, as a registered dietician, paying close attention to her nutrition—is just one of the ways Musk has maintained her clear, glowing skin over her five-decades-long career. As she prepared to walk her first show of New York Fashion Week, Musk paused to share her beauty secrets (and, of course, her reluctant fitness routine) accumulated over more than 50 years working in fashion (including a brief stint in a Beyoncé video).
Describe your look in three words: Plain, glamorous, quirky. I can do all three. But I'm pretty plain, as you can see.
Medicine cabinet snapshot: I always have eye cream, Covergirl + Olay Simply Ageless Instant Wrinkle Defying Foundation, SPF for the day, moisturizer, and night cream.
Best advice from your dermatologist: Stay out of the sun.
Best advice from your facialist: I once had a facial as a gift. It was boring. Okay. So I got bored, because I'm lying there for an hour while somebody's—[imitates aesthetician patting her face]. I must say, when I do a shoot, I get a nice massage on my face and I love that. But an hour of it and I'm done.
Beauty from the inside out: I drink a lot of water, but I think pretty much stay out of the sun and moisturize and eat healthily, because the skin is the largest organ in the body, so when you're feeding the rest of the organs, you're feeding the skin, too. You know I'm a dietician, too, hey? So if I bring in some science, I might be a little… [shrugs]
SPF of choice: I heard on the news if you use above 30, it's pretty much the same. So I used to get 70, but now, if it's above 30, I'm fine. Sometimes my moisturizer is 15 and then my foundation has 15, and then I always have a hat on and stay out of the sun that way.
Makeup miracles: Covergirl Perfect Point Plus Eyeliner. And as you can see, I need eyebrows. Because talking about my plain face—see how plain it is before the magic happens? The magic starts with eyebrows. They're pale and they are clipped because even though I don't have much hair, it goes in different directions. When I am doing a beauty shot, whoever's doing the beauty shot will say, can I just clip these eyebrows? And as I say, I have so few, but they go in the wrong direction.
Most underrated product: A brightly colored lip, either a bright pink or a bright orange. Every time I do that, people are always like, "Oh, I love your lipstick! What color is it?" I did a plum, it was nice.
Never leave the house without: Washing my face, moisturizing, just eyebrows and mascara—and a natural lipstick.
A good hair day starts with: Paul Mitchell is what I use a lot of. Blue shampoo. But you know, the thing is, now that my hair's been cut, what happens is it oxidizes over time. Then, it leaves a little bit of blonde in the ends. But now it's been cut, I don't think there's any blondes. Do you see any? I love having a good haircut, and I love it short. I'm so happy it's short.
My hair stylist always says: To cut my hair when it loses its shape.
Nails must be: I have very nice nails—I'm told that regularly. Can you see? And I prefer them just a nice length. I'm very careful to look after them; I don't go digging in the dirt or, I do wash some dishes with them. I do keep a neutral shade or a clear nail polish on just to keep them strong.
Exercise obsession: I hate exercising; however, when I walk, I walk my dog about four times a day when I'm in Los Angeles. It's him—it's not me. I'm working on the computer, and he likes to go out. Then, I work out in a gym—I do half an hour on the stationary bike and then I do 10 minutes of weights and 10 minutes of sketches. I don't like it, but I always feel better afterwards.
A woman should smell like: Tom Ford Noir.
Product that you picked up from the pros: Sometimes they'll give me some good tips—a nice mascara. I keep the eyelashes, sometimes. I'll use them myself if I ever do my own makeup again. I don't know, since I have to look so fabulous now, I have to get it professionally done. [laughs] Makeup artists are generous. They'll give me a lipstick they like or something.
Appointment you'd love to nab: I don't really like spa treatments. I like massages—especially when you do too much computer work, then it's nice for the neck. Too much Instagram, then a massage is nice.
In-tub must-read: Lately, I've been reading romance novels because my daughter's making romance movies, and you forget how nice they are. She only does romance movies that have happy endings, so at least you know you're not going to go to big, tormented, [wails], something bad happens. And it's really relaxing.
Best advice from mom: She was a very wise woman, my mom. She was very confident, very beautiful, and she was an artist, so she was just confident in whatever she was. It's not like she gave me advice, but just that I could follow that. She was always confident with everything she did but in the nicest, quietest way. Then, she was my dresser of course, when I was 15 and doing runway work.
Marc Jacobs's first kiss was with a girl—but it was just for show: