Australian It Girl Cartia Mallan Got Her Start by Accidentally Posting a Kylie Jenner Makeup Tutorial on YouTube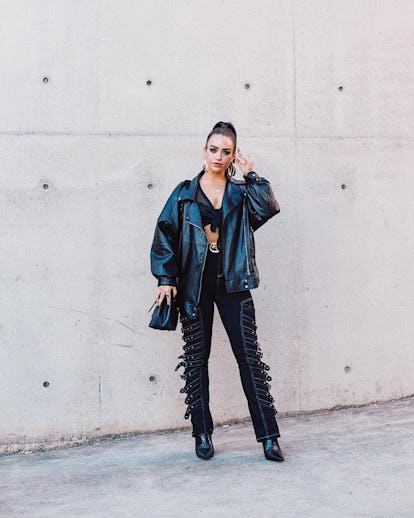 Australia's Resort 2019 Fashion Week, which wrapped on Friday in Sydney, was not lacking in local talent at the runway shows for the likes of Christopher Esber, Camilla and Marc, and Romance Was Born. Key among the front-row celebs: Cartia Mallan, the YouTube star–turned–Aussie It girl, who has amassed nearly 500,000 followers on Instagram thanks to her very followable feed that ranges from over-the-top beauty moments to lengthy, personal, and self-love–focused captions. "I fell in love with seeing fashion as self-expression," Mallan said amid a packed week of lunches, shows, and afterparties. "I used to be really timid growing up. I was really overweight, and lost a lot of weight during my teenage years. I fell in love with fashion as I started becoming more comfortable with my body." Here, Mallan opens up about her unexpected career, staying positive online, and what's to come.
How did you first get started on YouTube? It was actually an accident. I've studied theater ever since I was really little. And my acting coach was always like, "It is such a hard industry to crack," and I was like, "Fine, well, I'll learn how to do stage makeup and get in that way and work my way up." I fell in love with makeup, and was doing photo shoots and my friend's prom looks. One day my friend was like, "Can you show me how to do it?" So I said I'd video and e-mail it to her, but it was too big for an e-mail, so I posted it to YouTube on private. But I didn't do it on private; it was public. It was so unconscious. I posted that first one by accident, but I always ask myself, "Why did I post the second one?" I don't know what made me do that. It was like a Kylie Jenner–inspired look, when she still had small lips. I did a makeup tutorial on that and it went viral, because that was what was trending at the time. I just got lucky. This was 2014 or 2015, when I was 15. But I didn't really start properly posting until a year later.
What made you decide to take it seriously? I love video editing, and I love creating things. Doing the acting in school was great, but I love being able to make something of my own and work toward something… In grade 10, I moved to a specialty school for theater, which is a three-year course. It was intensive studying—pretty much like college—but lunchtime, early mornings, late nights, I'd be editing. I loved it, though. It was this whole new thing to me.
Were any of your classmates also getting into making videos? No. I was completely ostracized at the time. I had the most amazing group of friends, but everyone was like, "That's so lame." I knew everyone talked shit, but I just didn't care, so it didn't really affect me. I was enjoying it. And when you see results from something you are doing, it's like, who the f*ck cares what other people think?
When did you realize this could be an actual job? I remember when brands started being like, "We'll pay you a hundred dollars," and I was like, "You'll pay?" I was working in a café and being paid $20 an hour. So, it started there. And then when you start getting recognition from big clothing stores that I used to love when I was growing up, it was like, "Obviously I am doing something right." I had the Kylie Jenner thing, and then I did Cara Delevingne, with her brows, and got a lot of recognition from that. And I was going to a lot of music festivals and making a lot of content around when boho started, and that was already my style, so I was lucky in hitting that. Around that time is when it really [took off].
It was probably a year ago, when I was living in Byron, when I realized this could be my full-time job, and then it became 100 percent when I moved to Sydney and had to pay my bills… I slacked off for ages in Byron, because I gave myself—this is so typical— a year to find myself. I moved there when I was 17 and had finished school, and wanted to figure out what I actually wanted to do. I wanted to know myself, because you have a lot of responsibility when you have an online platform and I wanted to take that seriously. I took that time to get it sorted, so I wasn't posting much. I documented a lot of that, and that's when my content changed. I posted a lot about self-help and self-love and my own personal journey. I like being very vulnerable online.
How did your viewers respond to that? Amazing. That's when I was like, "There are not enough people speaking honestly about their struggles." It can be toxic to just be like, "Look at my life, it's perfect." It's not. I struggle just like everyone else. And it's amazing that people relate to that.
Were you scared to put out more personal videos? At first it was hard. Even on Instagram, I write these massive captions and it's scary because you are putting a whole part of yourself out there that is vulnerable. But I like to think that if it doesn't scare me, then my job becomes boring. It's what I learned in acting school: "If this doesn't terrify you, then why are you f*king doing it?"
How do you maintain a personal life when your job is to be yourself? I do like keeping some things private. I don't speak much about my relationships online. But I'm so open that there's not much I don't talk about.
What do you do to balance out your public persona? I try to stay on track with exercising, meditation, and yoga. If my body is exhausted, I'm exhausted and in a shit mood and I can't provide help to anyone else. My mental state is the most important thing for me. If I feel like I can't be positive online, I'll take a break until I'm good… And I have so many great friends around me. I've seen so many people that I was once friends with, or aspired to be, turn into assholes, and that keeps me grounded because I don't want to be that person. You choose to be like that. I say to my friends, "If I say something asshole-y or turn into a d*ckhead, slap me in the face."
How do you deal with negative comments? I'm really lucky. I'm so f*cking lucky. I don't get much hate and when I do it's like, "Your eyebrows are really thick." My mom always said, "When people are negative, send them love, because they don't have enough love." I think about it in that way. But if someone is giving me constructive criticism, I will take that and listen. Say, if they catch me doing too much sponsored stuff, or I'm slacking on creativity, they're like, "Come on!"
Do you still view YouTube as your main channel? Not really. I've pulled back from it a bit. I'm really focusing on getting back into my acting now. I use both Instagram and Twitter, but I've taken space from YouTube so people can get used to that idea that I'm not really a YouTuber. I'm never going to be posting three videos a week. But I'm doing a new series called Channel C Music, so I'll start posting more interviews with other people and showcase their talent. I mean, it's cool to post about myself, but a lot of my inspiration comes from music, so getting them on board makes sense.
As you go back to acting, are you afraid people might not be able to see beyond your social persona? I don't know how it will be. I'm interested to see. I think if you're good at it, it's not as hard. So I'm like, "Okay, Cartia, train. Get good."
Related: Tammy Hembrow, the Kim Kardashian of Australia, Shares Her Instagram Dos and Don'ts