Meet India Makailah Graham, the Winner of the Wmag Model Search
The 18-year-old college student from Michigan is getting her big break.
---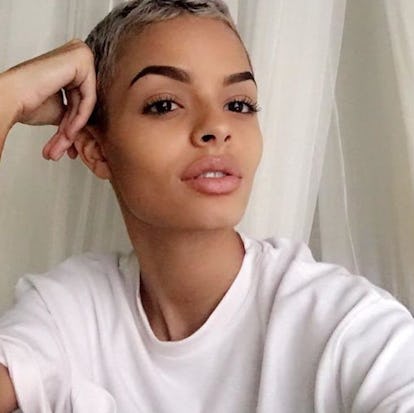 Over the past month, hundreds of hopeful models from all over the country submitted photos and videos to the Wmag Model Search—India Makailah Graham, am 18-year-old college student from Lansing, Michigan, among them. "I wasn't expecting this at all," Graham says, after finding out that she had been selected as the winner by W's Fashion Director Edward Enninful, W's Booking Director Erin Simon, fashion photographer Craig McDean, and IMG Models' We Love Your Genes scouting team. "I just feel like my dreams are really unfolding right in front of me."
​Full name: India Makailah Graham
Age: 18
Hometown: Lansing, Michigan
School, Major: Pace University, Arts and Entertainment Management Major, Fashion Marketing Minor
How do you feel about winning the Model Search and working with W and IMG? I feel very blessed to win the Model Search and work with W and IMG. It has been my dream to work with IMG, so I feel as though my hard work and dedication has truly paid off.
How did you find out about the Model Search? On Instagram!
Why did you decide to apply? I decided to apply because I wanted to apply to IMG Models when I moved back to New York for school, and then the competition was announced around the same time, so it worked out perfectly.
How did you develop an interest in modeling? Did someone suggest you try it? I developed an interest in modeling when I was in high school, I realized I loved being in front of a camera and I was constantly being told that I should model everywhere I went, which gave me confidence in myself to model.
Who is your favorite model? My favorite model is Tyra Banks. I grew up watching Tyra on America's Next Top Model and I think she is very inspiring.
Do you like fashion? I love fashion. If I was not modeling, I would definitely find a career within the fashion industry. My favorite designer is Donna Karan.
What do you hope to accomplish as a model? Is there a model's career you hope to emulate? As a model, I hope to influence others to chase their dreams and never give up. I would hope to emulate Tyra Bank's career, I admire her success and I think she has made a considerable impact on the model and entertainment industry.
What are your hobbies? Some of my other hobbies are cooking and technology. I love to eat all different kinds of food and learning how to make them myself. I think technology is very fascinating and important to keep up with in this day and age.
What role does social media play in your life? Social media plays a significant role in my life. It is the fastest and easiest way to connect with everyone around the world.
What are your favorite Instagram accounts? My favorite Instagram accounts are, of course @IMGModels, and @theshaderoom.
Anything else you'd want to share? Since I've become interested in modeling, it became my dream to work for IMG Models and possibly one day be the face of IMG because my initials are IMG.