23-Year Old Rapper Vince Staples Is a Late Bloomer, But a Fast Learner
Meeting the rising star at FYF Fest in Los Angeles, where he claims, despite growing evidence to the contrary, "I'm not really that famous. I'm regular."
---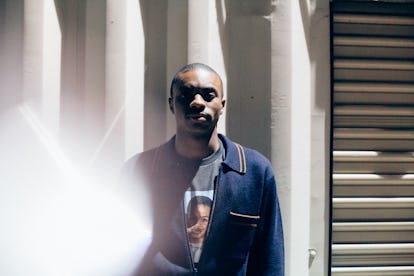 Photo by Emily Malan. Produced by Biel Parklee.
Growing up, Vince Staples never dreamt of being a rapper, and yet here he was, stepping off the main stage of the FYF Fest in Los Angeles this past weekend, with Grimes, Tame Impala and Kendrick Lamar to follow.
"What are your questions about?" he said.
"You," I responded.
"Why?"
Staples likes to test limits and those around him. Because of his charm, it's easy to play along. In his music, the 23-year-old is raw and deep, and while there is certainly hopefulness in his lyricism, there's also a looming darkness that's hard to ignore. But ask him to elaborate in person, and he deflects.
"I think I'm pretty happy. Am I happy?" he said, turning to his publicist, who was standing in earshot. "I might be crazy or something. You think I'm just eccentric? I'm eccentric. My publicist says I'm eccentric."
Staples is often described by those who have had the chance to converse with the Long Beach, California native as wise beyond his years. He's quick and uninhibited, but there's a thoughtfulness that sets him apart.
In his 2014 mixtape Shyne Coldchain Vol. II, Staples gave a glimpse of his upbringing with songs like "Nate," where he opens with: "As a kid all I wanted was to kill a man / Be like my daddy's friends, hopping out that minivan."
He doesn't go into further detail, but it's clear that gang life was entrenched in his family and neighborhood throughout his childhood and teenage years. A former Crip member himself, he tends to use the word "corny" to describe those who glorify the culture. He saw firsthand the destruction it brings, and to him, there's nothing to praise.
His parents moved to Long Beach from Compton, where his grandmother still lives and where he went to Optimal Christian Academy until eighth grade. School came easily to him, and he saw himself going far in his studies, but life got in the way; he wound up dropping out of high school, after transferring from one institution to the next. Soon, however, music entered his life.
"I didn't really start listening to music until I was 16," he said. "My mom liked gospel and Lauryn Hill and stuff, but I didn't really listen to music a lot. I'd hear whatever was on the radio: Ja Rule, Ashanti, Lil' Bow Wow, kid stuff. I wasn't educated on music."
That changed when through mutual friends he met Syd tha Kyd, Mike G and Earl Sweatshirt of the hip-hop collective Odd Future (now Staples lists Amy Winehouse, Kanye West and Joy Division as influences). Though he'd never entertained plans of becoming a rapper, he said, he began collaborating with some of the crew, and ended up featured in "Epar," a track on Earl Sweatshirt's 2010 mixtape, Earl.
A year later, he released his own mixtape, Shyne Coldchain Vol. 1, followed by three more, including Stolen Youth with Mac Miller in 2014, as well as his first EP, Hell Can Wait, under his label, Def Jam.
Those still unfamiliar with his growing body of work were likely indoctrinated the following year, when he released his critically acclaimed debut album, Summertime '06, along with a slew of powerful music videos, especially the one for his first single "Señorita," and later, "Norf Norf," on which he raps: "I ain't never ran from nothin' but the police." It has over 8 million YouTube views and counting.
After playing a series of music festivals around the world, he was back in Southern California at L.A.'s own FYF Fest, the day after releasing his long-awaited follow-up, Prima Donna.
"I mean, it's really just art and doesn't really have that much to do with me," he said of the six-track EP. "I'm not really that famous. I'm regular."
Prima Donna, he explained, is more of an analyzation of fame. The EP features A$AP Rocky and Kilo Kish, with production by James Blake, DJ Dahi, John Hill and No I.D.. It was released alongside a self-titled short film, directed by Nabil Elderkin.
"Have you ever seen Amy, the Amy Winehouse documentary?" he asked. "It's really sad, right? Her life sucked. My life's okay. But you know, I feel bad for those kinds of people. They're famous. People don't care about you. They treat you like you're not a person."
It must be strange, I said.
"Well, they don't do it to me yet or I don't know," he said. "I count my blessings. It's not like people are at my door and weird stuff like that."
After FYF Fest, Staples will be back on the road, touring the country with more festival dates; come December, he'll be heading to Australia to tour with Flume.
"After that, I'm gonna probably stay home," he said.
All of the sudden, his face lit up. "I'm gonna buy some pots and pans tomorrow. What's it called, Calphalon? I'm gonna show you."
He pulled up a search of the high-end cookware brand on his phone, and suddenly, I've lost him: "They're beautiful. They're copper. 'Cause stainless steel pots and pans can give you cancer, so I've heard from somebody who had cancer. Cancer happens. You just have to fight it, you know what I mean? Especially breast cancer. It's an underrated cancer. It's 'cause it happens to women and people hate women 'cause people are horrible people. That shit pisses me off. We need to respect women more, women and women's rights. Can we put that in the magazine?"
Watch W's most popular videos here: