Singer Meg Mac is the Antithesis to Music Festival Fashion
25-year-old Australian singer Meg Mac is playing at Governor's Ball this weekend, but don't count on her for colorful crop tops or fringed boots. Her look is dark, minimal, and decidedly anti-festival.
---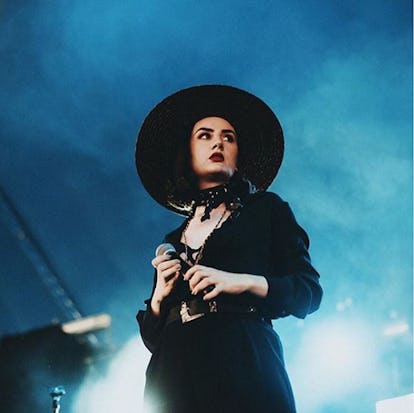 Australian Megan Sullivan McInerney (known by her stage name Meg Mac) may have already garnered comparisons to Adele thanks to her booming singing voice, but on the phone ahead of her Governor's Ball appearance on Friday, she is soft spoken. "I'm having a little holiday in New York waiting for the festival to start," she murmured. "I've seen two shows while I've been here, I saw The Color Purple and Beautiful: The Carol King Musical." The 25-year-old was fresh off recording her first album in Fort Worth, TX, with the same producers who work with Leon Bridges. "When I did the EP [in 2014] I hadn't really done many shows or had much experience in the music world, so it's a more confident me," she said of the album, due out later this year. As a Melbourne native, one would think the colorful crop tops and crochets of music festival fashion would lend themselves well to her style. But instead, she prefers a minimalist and all-black look, with a few choice accessories (namely, her lucky scarf). Here, she shares her on-stage uniform, style icon and what's in her bag. Three words to describe your style: Dramatic, simple, dark.
Governor's Ball look: I think I am going to wearing a cool black dress that I'm borrowing from Romance Was Born, it's an Australian [brand]. And then I'll just wear my hat.
On stage uniform: I kind of dress the same for all performances. It's definitely more dramatic than what I would normally wear. I like to wear hats and belts and maybe over-accessorize a bit. I have things that I feel like are lucky almost, I have this scarf, I call it my lucky scarf and I like to wear it when I perform. Usually I like to wear little bits of the same thing. I always like to wear black and dark colors. On stage I wear a lot of pants, because I feel like you can strut around.
Stance on music festival fashion: That's not really my thing. I kind of feel silly sometimes, the Australian girl at a summer festival and I'm wearing all black. But yeah, the beach style is not really my thing.
Nighttime look: My nighttime look is similar to what I would wear onstage. I usually like to wear lipstick. I keep my hair the same, always. And make everything a bit more dramatic with accessories.
Favorite New York stores: All Saints, Opening Ceremony, Reformation.
Style icon: Edith Piaf, the French singer, because she would always be wearing a black dress. That's something I've always been inspired by, something that's really simple and consistent. I really like a lot of famous photos of her, [because of] the striking silhouette. That's why I like wearing a hat, because in photos it's like a halo around my head.
Favorite hat brands: Kate & Able Fremantle and Some Buddy Loves You in Australia, and I also just bought a cowboy hat recently in Texas from Leddys while recording my album in Fort Worth
Style pet peeve: If you're uncomfortable, it's not going to work, no matter how cool it looks.
Last purchase: An All Saints leather jacket.
Lusting after: I've been looking for a pair of black boots that are flat. I'm going home to Australia in two days and it's winter there. And I really want a pair of boots that are flat because I like to wear the same shoes everyday. I don't own many shoes.
Always in your bag: Paw Paw cream, my phone, wallet, lipstick, a bottle of water. Usually a lot of things that should be in my bag don't end up there, like my house keys, or a phone charger.
Something you would never wear: Stilettos. I always have to have a chunky heel otherwise I can't walk around on stage properly.
Most prized possession in your closet: I think my lucky scarf, a silk neck scarf with a lot of stars on it. Since I bought it, I don't think I've done a show without it.
Photos: Singer Meg Mac is the Antithesis to Music Festival Fashion
Courtesy of @megmacmusic.
Courtesy of @megmacmusic.
Courtesy of @megmacmusic.
Courtesy of @megmacmusic.
Courtesy of @megmacmusic.
Courtesy of @megmacmusic.
Courtesy of @megmacmusic.
Courtesy of @megmacmusic.
Courtesy of @megmacmusic.