Meg Ryan Is Engaged to John Mellencamp
The actress shared the news of her engagement to John Mellencamp via Instagram.
---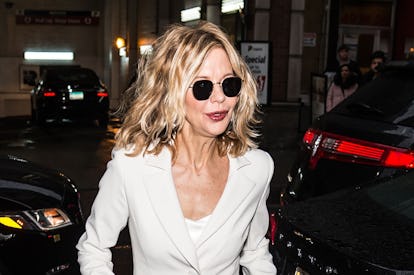 Gilbert Carrasquillo/Getty Images
Meg Ryan's comeback season is officially underway, thanks not only to her recent announcement that she is going to marry the musician John Mellencamp, but to her inevitable return to the small screen as well.
The couple's exciting engagement comes after a few ups and downs—they reportedly dated off and on from 2010 to 2014, then got back together in 2017, after a few years apart. But once photographs of Ryan wearing what appeared to be an engagement ring while walking in New York City circulated on Wednesday afternoon, the actress took matters into her own hands and announced that she and Mellencamp are now officially engaged.
Similarly to the ways in which You've Got Mail was ahead of its time in terms of how it dealt with modern relationships (dial-up played a big role in online communication back then), the You've Got Mail star announced her engagement in the most contemporary way possible—she shared an Instagram photo of a sketch of herself and Mellencamp. In the drawing, Mellencamp is holding a guitar in one of his hands and Ryan's hand in the other.
The actress was formerly married to Dennis Quaid—with whom she shares a 25-year-old son, Jack Quaid—for 10 years, before the couple divorced in 2001. Mellencamp was married to the model Elaine Irwin for nearly two decades, before the couple officially divorced in 2011.
As if her new engagement weren't enough of a signal that Ryan's comeback season is now upon us, let her return to Hollywood do some of the talking. Last year, just before she was seen rekindling her romance with Mellencamp, it was reported by Deadline that Ryan would star in a new half-hour comedy series for Epix. Brad Hall, the husband of Julia Louis-Dreyfus, had cast Ryan in Picture Paris, an adaptation of his short film of the same name. The original short starred Louis-Dreyfus in the role of Ellen Larson, a suburban mom with an obsession with the city of love. Ryan nabbed not only the lead role, but an executive producer credit for the project as well. The original short film did quite well when it hit the festival circuit a few years back. It's no big-screen romantic comedy à la When Harry Met Sally or Sleepless in Seattle, but it sounds promising enough, and is a welcome return to the small screen for Ryan, who's been absent from it since her roles on Lisa Kudrow's underrated Web Therapy series in 2013.
She also recently appeared at New York Fashion Week in February, seated with none other than Cardi B at Christian Siriano's fall/winter 2018 show, which is the ultimate mark of coolness for a '90s icon living in 2018.
Related: Dakota Johnson Found the Mixed Reactions to Suspiria "Very Interesting"