How Meghan Markle and Prince Harry's Wedding Compared to the Rumors
From beer pong to the Queen toting Markle's beagle to the nuptials.
---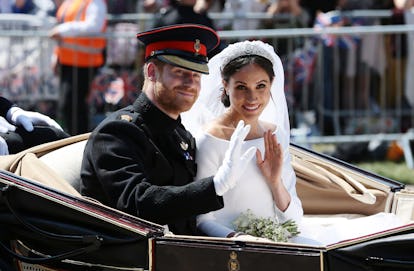 Aaron Chown – WPA Pool/Getty Images
It's been a frenzy of Meghan Markle and Prince Harry wedding coverage ever since the pair tied the knot on May 19 at St. George's Chapel on the grounds of Windsor Castle. Which is to say, reading about what exactly went down leading up to their televised ceremony and throughout the evening at their intimate reception is the equivalent of playing rumor whack-a-mole. Did Markle's beagle actually accompany Queen Elizabeth II to the wedding ceremony? Was that empty chair really for the late Princess Diana? And what is all of this about a royal game of beer pong at Frogmore House? Sifting through these rumors and others is honestly overwhelming. To help, we've fact-checked the most prevalent ones about Markle and Prince Harry's wedding.
Meghan Markle's Beagle Rode With the Queen to the Wedding
Sadly, this one is false. The incorrect rumor originated with a tweet from a Markle fan account depicting the Queen holding a dog as she rides in a Range Rover. "A friend kindly alerted me to a very sweet moment we missed yesterday – the Queen traveling with Meghan's beagle guy," it said. It didn't take long after for news outlets—including this one—to pick up the story. As it turns out though, Guy, Markle's beagle who is adjusting pretty well to his new royal life, didn't make it to the ceremony. The Queen did not actually arrive with any dog and the photo that went viral was taken prior to the wedding.
Serena Williams Played Beer Pong at the Reception
Again, nope. While the idea of Serena Williams playing beer pong at a royal wedding is both amazing (can you even imagine Queen Elizabeth's reaction to such a scene?) and daunting (truly, no one would beat her), it is just fiction. When Williams was asked about it later, she told news outlets that the rumor isn't "even remotely true." "I don't even drink beer," she said. If she did, it's even unlikelier that she would have done so shortly before playing the French Open, where she won her first Grand Slam match since giving birth eight months ago.
The Spice Girls Planned on Attending the Wedding
In the end, only one Spice Girl attended the royal wedding, Victoria Beckham. Nonetheless, Mel B mentioned that the Spice Girls would be reuniting at the wedding, sparking rumors beforehand. When asked if she was attending, she said "Yeah, I'm going…. I don't know if I should've said that. Well, us five Spice Girls…why am I so honest?" After her interviewer, Loni Love, took that to mean the Spice Girls were performing at the wedding, Mel B said, "This is where I'm just like…I need to go. I'm going to be fired!"
An Empty Chair Was Left for Diana
Another rumor that ended up becoming a news story was the notion that the empty chair next to Prince William at the wedding was left open for his late mother, Princess Diana. Fueling this idea was the fact that there was also an empty chair at Prince William's own wedding to Kate Middleton in 2011. Actually, though, there is always an empty chair when royals are sitting in rows because it's protocol to leave an empty one in front of Queen Elizabeth II.
Meghan Markle Was Going to Be Married in Ralph & Russo
At the beginning of May, The Daily Mail reported that Markle would be wearing Ralph & Russo on her big day. It didn't take long for the story to go viral. In the end, though, Markle wore Givenchy, helmed by British designer Clare Wright Keller. While Markle also wore Stella McCartney for the reception, it was Givenchy who won the royal wedding, earning a whopping $2.9 million worth of coverage on Instagram.
Meghan Markle and Prince Harry Served Burgers at the Reception
This one is true, as guest Janina Gavankar later confirmed. "We all danced until the wee hours," she told Town & Country, "and partied and celebrated and ate sliders at two in the morning." She added, "It was such a beautiful day and a carefree night, and it was a very powerful day in history. And I think everybody felt it across the world." As for their table names? Each one was apparently inspired by a word that has a different pronunciation in the U.K. and America: "Potato, potato, tomato, tomato, oregano, oregano." "It was so sweet," Gavankar said. "There were so many nods to the beautiful mash-up of two cultures."