Givenchy and Stella McCartney Made Millions Off the Royal Wedding in Media Coverage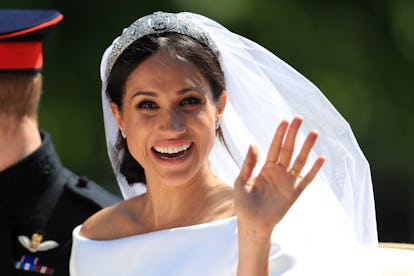 Mike Egerton/PA Images via Getty Images
If you even momentarily glanced at royal wedding coverage, then you're likely aware that the bride, Meghan Markle, wore both Givenchy and Stella McCartney for her big day. Not surprisingly, that fact has done wonders for both brands. Since last Saturday, when Markle and Prince Harry exchanged vows at St. George's Chapel at Windsor Castle, Givenchy and Stella McCartney have each raked in millions in media coverage.
Specifically, Givenchy has earned $2.9 million worth of coverage on Instagram, plus 12,234,710 likes and 3,002 mentions, according to WWD. Meanwhile, Stella McCartney, who outfitted Markle in a now-iconic halter column dress for the couple's evening reception at Frogmore House, where Elton John performed, has garnered $2 million in coverage, 9,605,198 likes, and 1,840 mentions.
While both dresses couldn't have been more perfect for the elegant, low-key royal bride, it's easy to see why Givenchy, whose dress took 3,900 hours to create, scored more mentions. Quite simply, the whole world seemingly tuned in to see its reveal live, and 29 million Americans alone viewed it across 15 cable networks, according to Forbes. That figure was 7 million more than the number of Americans who watched Prince William and Kate Middleton's wedding back in 2011. Of course, none of that takes into consideration the many people who viewed it on YouTube streaming or other mobile platforms.
Stella McCartney meanwhile had another win for the wedding day: The British designer also outfitted the bride's mother, Doria Ragland, for the evening reception. "I am so proud and honored to have been chosen by the Duchess of Sussex to make her evening gown and represent British design," McCartney told WWD. "It has truly been one of the most humbling moments of my career, and I am so proud of all the team on this stunning sunny royal day."
Givenchy and McCartney weren't the only brands that emerged as winners during the royal wedding, though, as Philip Treacy earned $507,358 in media coverage for placing his hats on everyone from Priyanka Chopra to Oprah Winfrey. Then again, the real winners of the day would have to be Prince Harry and Markle, who couldn't have looked more in love.