Two Spice Girls Snubbed in Royal Wedding Guest Planning
You can't "say you'll be there" if you're not invited.
---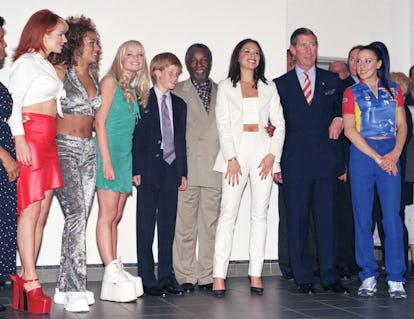 Mark Cuthbert
The entire narrative that the Spice Girls may reunite to provide reception entertainment at Meghan Markle and Prince Harry's royal wedding began with hearsay, conclusion-jumping, and rumors, so it's only fitting that it ends (maybe) with a gossipy report. As it turns out, not only will the Spice Girls not be reuniting onstage, they won't even be reuniting in the pews of Windsor Castle's St. George's Chapel. Only three of the five assorted Spices were even invited, at least according to a new Page Six item. As if to dash all your reunion dream, the two who weren't invited are arguably the group's two best vocalists.
So, who's coming and who's left out?
Let's start with the obvious. Victoria Beckham, aka Posh Spice, has, of course, made the cut. She's been honored by the queen with an OBE already and is herself a British institution at this point—and she happens to be married to an even bigger one-person Brit institution in David Beckham. Unlike the other band members, Beckham was also present at the wedding of Prince William and Kate Middleton. So while Beckham shot down rumors that she'll be designing Markle's wedding dress, she was practically a shoo-in when it came to the invite list. As someone who has also taken a life path that took her from pop culture entertainment into the higher ends of British fashion and society, she might be a good contact for Markle, a former actress, to call on from time to time.
Geri Halliwell's invite is also not particularly shocking. In Britain, at least, she's had the most successful solo singing career of any of the girls. From an American perspective, she's the U.K.'s second most iconic redhead, after Prince Harry himself. She also happens to be married to Christian Horner, the principal of a Formula One auto racing team. Prince Harry is a particularly keen Formula One fan. Indeed, the connection has led to a public friendship between Halliwell and Harry. They've been spotted chatting at various Formula One events through the years.
Which brings us to Baby Spice, Emma Bunton. She's on the list, but we can't discern any particular reason why she made the cut while the remaining two have not, though she maintained a steady presence in Britain for years through her continued television and radio presenting work. She also ran into Prince Harry while he was with Prince William and Middleton in 2017.
This leaves the Mels, both B and C, as the odd Spices out.
Melanie Brown was actually the Spice who started this whole rumor mill fiasco in the first place. Back in February while guesting on The Real, Brown was asked if she knew of anyone who had received an invite to the nuptials. "Yeah I'm going…I don't know if I should've said that," she said before revealing that all five girls were going. It was that admission that led to talk of a performance in the first place, but either Brown didn't have her facts straight or something happened in the interim. Was she snubbed as a result of royal wrath or was it something else? Page Six says only that she's still at home in Los Angeles. Indeed, Brown has been the most active in America of all the Spice Girls and has called L.A. her home base for years. She's carved out a nice long-term gig as a judge on America's Got Talent, and the premiere of the upcoming season of that show is just weeks ahead.
As for Melanie Chisholm's snub, we can't think of an obvious reason. Sure, she may have the most low-key post-Spice career of any of the girls, but she's an integral member. Any Spice Girls fan who says she isn't the most valuable vocalist of the group is no true Spice Girls fan at all. Staging a reunion without her would be like adapting a string quartet piece for a band without a violin. It would just sound off.
Though it may seem particularly American and unsophisticated to view the royal wedding through the lens of a potential Spice Girls reunion, it's not so random, either. The bride herself is, after all, an American, and like with most Americans her age, the Spice Girls were the biggest bit of British pop culture in the U.S. during her adolescents. Out of all the native entertainment Britain has to offer, the Spice Girls in a sense makes the most sense for a royal booking.
Prince Harry, too, has a long history with the group, meeting them as a child twice when he was ages 10 and 13.
There's also the matter that the most recent time Britain hosted a big ceremonial shindig that attracted the eyes of all the world, the Girls were involved. That would be the 2012 Olympics opening ceremony, the last time the group performed together.
Of course, who knows: This could all be some coordinated campaign of misinformation to keep any performance a surprise, but it's not exactly like the royals are staging the whole thing for the television ratings or entertainment value. It's a wedding, not an awards ceremony.
Related: Phoenix Brown, Mel B's Look-Alike Daughter, Channeled Scary Spice on Her Prom Night