Phoenix Brown, Mel B's Look-Alike Daughter, Channeled Scary Spice on Her Prom Night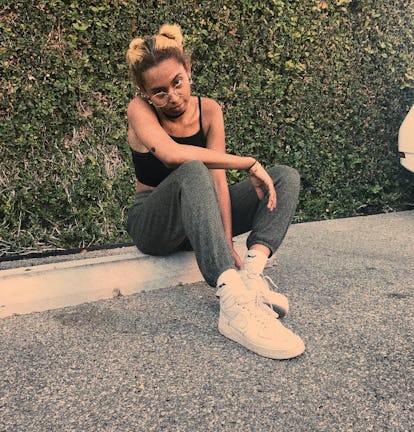 Courtesy of @phoenixisphoenix
The former Spice Girls have certainly been busy as of late, not least because of all those reunion rumors. Increasingly, though, their own progeny are starting to catch up to their speed. Just this weekend, Victoria Beckham's 6-year-old daughter, Harper, who already has some design work under her belt, got to work as a makeup artist, vying for the spotlight from both her mom and her older brother Brooklyn, a 19-year-old published photographer.
At the same time that Harper was breaking out, Mel B's own 19-year-old, college-minded spawn, Phoenix Brown, also took a significant step into the public eye. Officially named Phoenix Chi Gulzar, Phoenix was born in 1999, during her mom's brief marriage to the Dutch dancer Jimmy Gulzar. (After winning custody of Phoenix and moving to the U.S., Mel B, aka Melanie Brown, went on to become the proud single mom of two more daughters, with her former partners Eddie Murphy and Stephen Belafonte, from whom she's still undergoing a difficult split.)
And while her mom is busy captioning photos of her with hashtags like "#youwillalwaysbemybaby," Phoenix is definitely starting to stand apart from her baby sisters, as most recently showcased this prom season. While she kept things rather simple at her Beverly Hills prom her senior year, she took things up a notch this time around, opting for a silvery ensemble made up of a long-sleeve, collared, and fringe-heavy crop top, plus a floor-length skirt with an unmissable slit. As it turns out, the Scary Spice–like outfit in fact belongs to Mel B: "you look amazing even though you raided my wardrobe last minute," her mom captioned a photo of her on Instagram, adding that they're now the same size.
In true proud-mom form, Brown started her thorough documentation of the night with a dramatically slow-motion video of Phoenix stepping out with her date, Victor, and then praised the way he arrived to their home. "This is how you rollup and pick up my baby girl in your @bugatti boom I respect how you treat a lady and I love it!" she wrote, capping off her photo of the pair posing with Victor's bright orange sports car with the hashtags "#iwouldnthaveitanyotherway," "#setthestandard," and "#mykidsaremylife." She also captured the pair posing on a staircase, using another memorable hashtag: "#amanshouldrespectthiswoman." (Before posting a photo of herself dressed up in fishnets during her own night out on the town—not the first time she's matched her daughter in dressing up.)
Phoenix doesn't post on Instagram—where she has 40,000 followers—that often, but she posts enough to offer a glimpse of the many hair colors and styles (including her own take on bantu knots) that she's had over the years. (Though she's been pretty steady with platinum blonde as of late.) Her Instagram also proves that she's spent her teens hanging with the likes of Ciara and Gwen Stefani, as well as weathering a case of Bieber Fever. Lately, she seems to be more into posing, snacks, and fun pants, pretty much making her the Gen Z Mel B; see for yourself, via her Instagram, here.
Related: The Spice Girls May Be Performing at Prince Harry and Meghan Markle's Royal Wedding