Harper Beckham, 6, Just Gave Victoria and David Beckham the Makeovers of Their Lifetime
Their potential "future makeup artist" daughter, whose name is already commercially trademarked, has been using her parents to put body paint and glitter to work.
---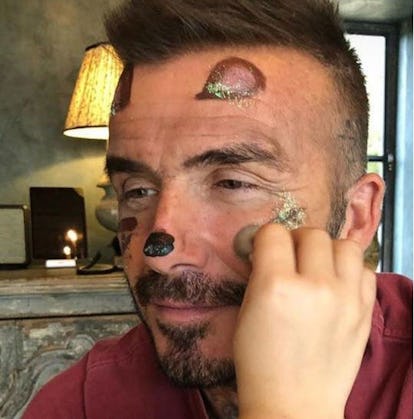 Courtesy of @victoriabeckham
Last month, Victoria Beckham announced that she's soon launching a line of skincare products, branching out on her own after a 2016 collaboration with Estée Lauder. Now it looks like she might soon be facing some competition—from none other than her and David Beckham's 6-year-old, Harper Beckham. (This is, after all, the Beckham family, aka a family that's abnormally stuffed with fame and talent, even by pop-culture standards.)
Still, Victoria seems far from upset about the possibility that her daughter, who only recently found out she was a pop star, is getting into the field. Indeed, after Harper finished up her homework over the weekend, Mom deigned to let her try out her plastic, definitely not pore-friendly palette of body paint on her immaculately smooth face, prompting the proud parent to laud her as "so creative!!!" and document the whole session on Instagram stories. "Future make up artist?" asked Beckham. Seems like the Pat McGraths and Gucci Westmans of the world should watch out.
Harper ended up going for the cat emoji as the inspiration for her mom's look. David, on the other hand, who's been known to, for one, rock a mullet over the years, appropriately got a more experimental, abstract look, with ears of sorts on his forehead, a black spot on his nose, and no shortage of glitter on his cheeks.
Indeed, Victoria seems to already be preparing to take Harper's beauty proclivities to the mainstream; back in December, she trademarked her 6-year-old's name for exclusive commercial use. To be fair, Brooklyn, Cruz, and Romeo's names were also trademarked, but Harper has definitely been ahead of the game when it comes to family fame; when she was just 5, one of her drawings made it onto one of Victoria's T-shirts. (Victoria also posted a video of her daughter wearing a headband accented with antlers, going through a series of outfit illustrations and saying that she was having a "fashion sale," so Harper now has a year-plus in fashion under her belt.)
Even between managing her children's budding talents—Brooklyn is now a photographer, with Romeo as one of his models, and Cruz is a budding (and already quite impressive) musician—Victoria wasn't lying when she said that despite her famously miserable demeanor, she does actually have quite a bit of fun. After a weekend of family time, for example, she posted a photo of a bowl of jumbo prawns, declaring it "life changing" for being cooked in tequila.
Related: Victoria Beckham: If I Was as "Miserable" as I Look, I Wouldn't Still Be Married to David Beckham
David and Victoria Beckham: American Idols
Victoria Beckham wears an Yves Saint Lauren embroidered black silk charmeuse dress; Brooks Brothers white cotton tank top. Her own bra. David Beckham wears Acne Jeans blue cotton denim jeans. Gucci sunglasses; Frye boots.
American Apparel nude cotton and spandex jersey leotard. On him: Daang Goodman for Tripp black cotton pants.
Follow W magazine on Twitter!
VPL nylon and spandex bra; nylon, spandex and cotton bodysuit; polyester and cotton briefs and belt. Alexander McQueen boots. On him: New York Fetish latex pants. Giles & Brother by Philip Crangi necklace over his own necklace; Made Her Think bracelet.
Agent Provocateur nude silk, nylon and elastane bra and briefs. On him: Dolce & Gabbana white nylon and elastane briefs.
Hermès black polyamide and elastane swimsuit. Alexander McQueen boots. On him: DSquared black cotton and nylon pants.
Just Cavalli leather pants.
Follow W magazine on Twitter!
Dolce & Gabbana nylon and polyamide maillot. On him: Adam Kimmel wool and cashmere cape.
The Beckhams with Giorgio Armani at the Met Costume Institute gala.

Photographer: Steve Eichner
Victoria Beckham and Jennifer Lopez at the Marc Jacobs Spring '09 show.

Photographer: Steve Eichner
Victoria Beckham and Jennifer Lopez at the Marc Jacobs afterparty.

Photographer: Steve Eichner
An image from a Marc Jacobs campaign starring Victoria Beckham.
Follow W magazine on Twitter!