Victoria Beckham On Her Second Makeup Collection for Estée Lauder, and the Secret to a Glowing Complexion
"I think it has the potential to become a new makeup essential for a lot of women."
---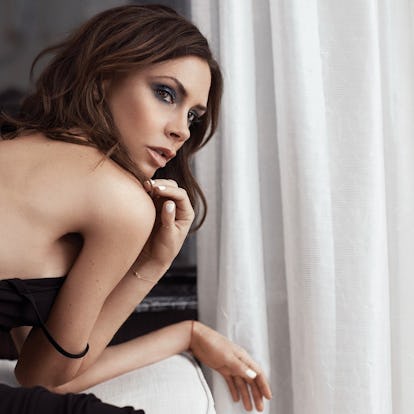 Photo by @victoriabeckham
Victoria Beckham may be best known for her careers as a fashion designer and a pop star, but the mother of four is also a major player in the beauty industry, thanks to the 30 fragrances she has with her husband David Beckham and her new makeup collaboration with Estée Lauder. Last summer, Beckham announced that she was creating the ultimate makeup collection, which debuted at New York Fashion Week. Now, the fashion designer is back with her second collection, which offers 18 new products inspired by Beckham's favorite cities around the globe. Here, the designer and erstwhile pop star discusses the new offerings; it turns out, she's formulated the ultimate collection for those to dare to go nude.
What was your inspiration for the new collection? For me, this second collection is a celebration of fashion and color. It's also very much inspired by my favorite cities in the world. I created five different looks based on the cities that I love the most and visit often – including a new city which didn't feature in the first collection, Miami. We've explored key beauty themes such as my take on the color pink, a continued evolution of the nude lip, an expansion of matte across both eyes and lips, and multiple eyeshadow duos instead of one palette. This makeup collection really reflects my personal beauty vision and I hope it will make women everywhere feel beautiful and confident.
How does the new collection differ from your first? With this second collection, I was able to move into other key new beauty areas, such as mascara, blush and powder. We've doubled the size of the collection this season launching 28 products for face, eyes and lips, including 10 hero products from the first collection, 18 new products and 2 limited edition sets. The Paris, London, New York and L.A. looks have come back with new shades, new formulas and different textures. Most of the products in these looks are brand new. The newest city look addition, Miami, has gorgeously flushed cheeks and bright eyes with a blue edge. Very youthful and summery!
What product are you most excited about? I'm extremely excited about the Skin Perfecting Powder I've developed for the new collection. I think it has the potential to become a new makeup essential for a lot of women. It helps blur pores and set makeup for a perfect finish, but it isn't at all cakey. The packaging is really beautiful too. My go-to product would have to be my Morning Aura Illuminating Creme. It's my secret weapon for fresh, glowing skin.
What are your favorite makeup trends for the Fall? One of our new Eye Matte Duos features this gorgeous deep navy color paired with orange. As much as it's very cool and ultra-modern, it's actually incredibly wearable and the perfect bold color combo for the fall. I'm also obsessed with the matte finishes on our new products for lips and eyes. The updated Paris look has this beautiful matte Black Cassis lipstick and an intense black liquid eyeliner that dries down to a modern matte finish.
What is your favorite beauty look for the Fall? I'll always love a smudgy, smoky eye paired with a nude lip, and for the fall it's great to update the look with new colors and finishes. We have a brand new matte nude lipstick called Victoria which is deeper, more cool toned and richer than any other nude that we've done before. The new Eye Palette from the London look is a really interesting eyeshadow formula that leaves a sophisticated cream finish on lids. I especially love the Gris color, which gives a cool sheer wash of color, and even used it on the girls in my A/W 2017 fashion show.
A Celebration of Victoria Beckham's Signature Beauty Through the Years
Beckham wears her brunette pixie with tousled bags and a light contour on the cheekbones with a nude glossy lip at the Spice Girls launch book "Forever Spice" event in London. (1999)

Photo by Getty.
Wearing her hair swept over in voluminous, tousled waves with a nude glossy lip, Beckham attends the Elle Style Awards in London. (2000)

Photo by Getty.
Beckham wears her tousled, highlighted locks in a loose, half up with with luminous skin at the Rock & Republic Spring 2005 fashion show.

Photo by Getty.
Beckham goes blonde with an ultra sleek pixie cut paired with a taupe smoky eye at the Graduate Fashion Week photo call. (2007)

Photo by Getty.
Beckham returns to her brunette locks wearing an asymmetrical bob with a brown smoky eye and a nude glossy lip. (2007)

Mike Marsland
Wearing her sleek pixie cut with an exaggerated dark smoky eye, Beckham arrives at the 17th Annual Elton John Aids Foundation Party. (2009)

Photo by Getty.
At the British Fashion Awards in 2010, Beckham wears a naturally tousled up do with a taupe smoky eye and a luminous skin.

Photo by Getty.
Victoria Beckham looked sleek with lots of black eyeliner and a teased up do at the British Fashion Awards 2011.

Photo by Getty.
Beckham let pieces loose out of a slightly voluminous pony tail at the Vanity Fair and Chrysler celebration of The Eva Longoria Foundation. (2013)

Photo by Getty.
Attending the 5th Global Gift Gala, Beckham wears her shiny, polished curls side-parted with a dark taupe eyeshadow and a matte nude lip.

Photo by Getty.
Attending the British Fashion Awards in 2015, Beckham wears an elegant up do with loose pieces framing her face, full brows and a grey smoky eye.

Photo by Getty.
Wearing her asymmetrical, long bob in tousled curls with a dark grey smokey eye, the fashion designer attends the launch of "Vogue: Voice Of A Century"book event. (2017)

Photo by Getty.
Your Favorite Celebrities Pick Their Favorite Spice Girls