Victoria Beckham Enjoys Taking the Piss Out of Victoria Beckham: "I'm Always Poking Fun At Myself"
The designer debuted a new slogan t-shirt during London Fashion Week.
---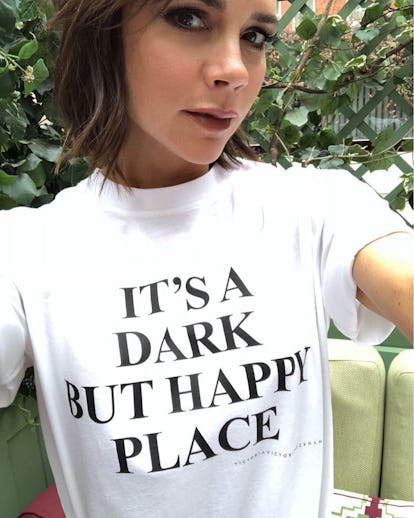 Victoria Beckham has always cultivated a signature look. When she first shot to fame as Posh Spice, it was all about the mini-dress with lace-up heels (or, as famously described in the seminal film Spice World, "the little Gucci dress"). Circa 2007, when she and husband David Beckham first relocated to the States, she favored skintight Hervé Leger dresses and platform heels that were all the rage at the time. She's since moved on, of course, and built a fashion empire of her own of impeccably tailored, simple silhouettes that has made her one of fashion's elite.
So when the designer stepped out wearing an atypical slogan t-shirt last year with the saying "Fashion Stole My Smile,", a sly nod to her infamous proclivity to never smile in photos, the internet all but broke. Now, at the presentation of her Victoria Victoria Beckham Fall 2018 collection, which she debuted today during London Fashion Week, Beckham is back to poking fun at herself.
The designer welcomed guests to the rather, well, posh presentation held at the Mark's Club while wearing a white shirt that read, "It's A Dark But Happy Place." "I think Victoria Victoria Beckham always has an element of sense of humor and personality in it," she explained. "I'm always poking fun at myself, and this is based on me, behind sunglasses. It's dark, but I'm having fun."
It's the same attitude that prompted her to create the "smile" shirt, which was also sold on her website (the new version is also already available online and in stores). "It was just me poking fun at myself. I think it is elevating what is a simple t-shirt and having fun with it," she said. "Never has it been more important to have fun in fashion than right now. I take my job very seriously, but I want to have fun with it."
She had also worked hard to perfect the ultimate simple t-shirt, a silhouette that had long eluded her in her personal shopping adventures. "It's really hard to find the perfect t-shirt," she said. "It's an easy shape—you can wear it with jeans or with a tuxedo jacket or with a kimono over the top of it. This is something that people can have fun with it."
Related: Victoria Beckham On Her Second Makeup Collection for Estée Lauder, and the Secret to a Glowing Complexion
Your Favorite Celebrities Pick Their Favorite Spice Girls