ROYAL WEDDING DRESS WATCH
Victoria Beckham Takes Herself Out of Meghan Markle's Wedding Dress Designer Rumor Mill
And plays coy about whether she's been invited to the royal wedding.
---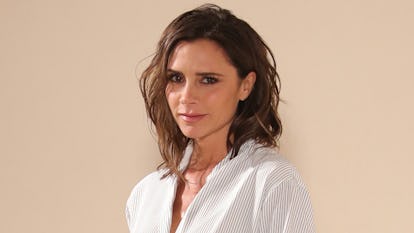 Neilson Barnard/Getty Images
It wouldn't be beyond the pale to assume that perhaps Victoria Beckham was in the running to design Meghan Markle's wedding dress: Not only is she an accomplished designer, but she also has strong ties to the royal family, having attended Prince William and Kate Middleton's royal nuptials in 2011 and celebrated daughter Harper's 6th birthday with a tea party at the palace last summer. But during an appearance on The Late Late Show on Thursday, Beckham shut down the rumors that she'll be masterminding Markle's gown for the May 19 ceremony.
"How is designing Meghan's dress? Is it going well?" host James Corden asked, attempting to catch Beckham off-guard. His plot failed, though, as Beckham vehemently denied that she was doing any such thing. "Maybe you know something that I don't! I'm not doing the dress, I'm not," she said, adding, "Sadly, not. But I'm sure she will look incredible in whatever she wears."
However, Beckham was less adept at sidestepping Corden's questions about whether she and husband David Beckham would at least be attending the wedding. When he asked whether she had received her invitation, Beckham responded with a nonsensical, "I don't know, I've been here," before Corden and fellow guest Shaquille O'Neal began ribbing her for stammering over her answer. Beckham then attempted to shift the focus off herself, continuing, "I think England is so excited. I mean, it's just so great, isn't it? They look so happy!"
Even though she says she's not designing Markle's wedding gown, Beckham has already had a hand in Meghan and Harry's nuptials. In one of the duo's engagement photos that Kensington Palace released last December, a month after they announced their engagement, Markle wears a creamy white sweater from the Victoria Beckham line. And keep your fingers crossed that Beckham will also play a role at the wedding reception, where the Spice Girls are rumored, vaguely so, to be performing.
Related: Victoria Beckham Enjoys Taking the Piss Out of Victoria Beckham: "I'm Always Poking Fun At Myself"
A Celebration of Victoria Beckham's Signature Beauty Through the Years
Beckham wears her brunette pixie with tousled bags and a light contour on the cheekbones with a nude glossy lip at the Spice Girls launch book "Forever Spice" event in London. (1999)

Photo by Getty.
Wearing her hair swept over in voluminous, tousled waves with a nude glossy lip, Beckham attends the Elle Style Awards in London. (2000)

Photo by Getty.
Beckham wears her tousled, highlighted locks in a loose, half up with with luminous skin at the Rock & Republic Spring 2005 fashion show.

Photo by Getty.
Beckham goes blonde with an ultra sleek pixie cut paired with a taupe smoky eye at the Graduate Fashion Week photo call. (2007)

Photo by Getty.
Beckham returns to her brunette locks wearing an asymmetrical bob with a brown smoky eye and a nude glossy lip. (2007)

Mike Marsland
Wearing her sleek pixie cut with an exaggerated dark smoky eye, Beckham arrives at the 17th Annual Elton John Aids Foundation Party. (2009)

Photo by Getty.
At the British Fashion Awards in 2010, Beckham wears a naturally tousled up do with a taupe smoky eye and a luminous skin.

Photo by Getty.
Victoria Beckham looked sleek with lots of black eyeliner and a teased up do at the British Fashion Awards 2011.

Photo by Getty.
Beckham let pieces loose out of a slightly voluminous pony tail at the Vanity Fair and Chrysler celebration of The Eva Longoria Foundation. (2013)

Photo by Getty.
Attending the 5th Global Gift Gala, Beckham wears her shiny, polished curls side-parted with a dark taupe eyeshadow and a matte nude lip.

Photo by Getty.
Attending the British Fashion Awards in 2015, Beckham wears an elegant up do with loose pieces framing her face, full brows and a grey smoky eye.

Photo by Getty.
Wearing her asymmetrical, long bob in tousled curls with a dark grey smokey eye, the fashion designer attends the launch of "Vogue: Voice Of A Century"book event. (2017)

Photo by Getty.