Meghan Markle Has Been Submitted for Emmy Nominee Consideration for Suits by USA Network
There's definitely no royal protocol for this.
---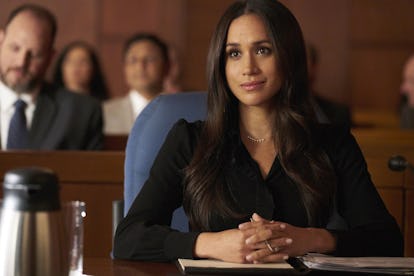 Ian Watson/USA Network/NBCU Photo Bank via Getty Images
Making history is nothing new for Meghan Markle, a bride who walked herself to St. George's Chapel and delivered her own speech at her wedding to Prince Harry. Her latest achievement, however, is truly a reminder of just how much the royal family is undergoing a paradigm shift. Markle is the first member of the royal family in Britain to have her name submitted for Emmy consideration.
Even though she's retired from acting to focus on humanitarian and activism alongside her royal husband, Markle could receive a nod at this year's Emmy awards. Her name was submitted for a potential nomination, along with her Suits castmates, by USA Network, as Entertainment Tonight points out. Of course, that "could" is hypothetical.
For one, Markle has never been nominated for Suits before, nor has anyone else from the cast. The TV show hasn't received any nominations for the Emmys either, though it did receive a 2012 nomination for the SAG Awards and a 2016 nod for the People's Choice Awards. It's even less likely that Markle would win the Emmy if she was indeed nominated. To do so, she'd have to beat people like last year's winner, The Handmaid's Tale Ann Dowd, Dowd's co-star Alexis Bledel, Stranger Things' Millie Bobby Brown, Westworld's Thandie Newton or Rachel Evan Wood, Game of Thrones' Sophie Turner and Maisie Williams — the list goes on. Of course, none of those actresses has nominations set in stone either, as the official list of nominees has yet to drop, but they're all front-runners.
At this point, though, it's worth wondering if Markle would even attend the show if she were nominated. She clearly has her hands full, between working with the Royal Foundation and penning essays about feminism. "What's been so exciting [transitioning] out of my career and into … the causes I can focus even more energy on, very early out of the gate, [is that you] have a voice that people listen to, a lot of responsibility," she said back in November during her and Prince Harry's joint interview. "There's a lot to do."
While explaining her decision to leave behind acting, she said, "I don't see it as giving anything up. I see it is a new change, a new chapter. I've been working on my show seven years; we were so fortunate to have that longevity on a series. For me, once we hit the 100-episode marker, I thought, I have ticked this box and I feel really proud of the work we've done there and now it's time to work as a team with [Harry]." Still, the possibility of the beloved royal couple attending the Emmys is no doubt an exciting one. Hey, weirder things have happened.