Meghan Markle and Prince Harry Are Refusing $9.3 Million Worth of Wedding Gifts
All because of royal protocol.
---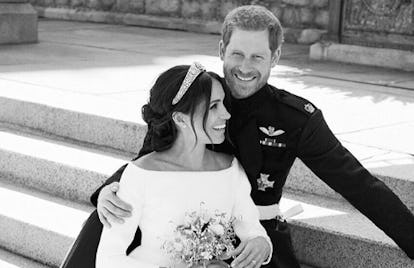 instagram.com/kensingtonpalace
What's the difference between a royal and celebrity? A royal isn't allowed to accept gifts from businesses or strangers, which is why Meghan Markle and Prince Harry will be returning the many wedding gifts sent to them.
Just as millions watched on May 19, 2018 as the couple exchanged vows at St. George's Chapel on the grounds of Windsor Castle (specifically 29 million Americans), millions of dollars of presents were sent their way. Markle and Harry have received £7 million ($9.3 million) worth of "publicity stunt" gifts so far, according to UK news outlet Express, and every one of them are being returned to the sender.
"When gifts are accepted, the consent of the Member of the Royal Family should be contingent upon the enterprise undertaking not to exploit the gift for commercial purposes," as Express notes. "Gifts offered by private individuals living in the UK not personally known to the Member of the Royal Family should be refused where there are concerns about the propriety or motives of the donor or the gift itself."
Anyone who sent Markle and Harry gifts, though, wasn't paying attention to the couple's own wishes for their big day. Prior to the wedding, Kensington Palace made an announcement no doubt easing Priyanka Chopra and every other attendee's worries over what to get the couple that truly has everything. "Prince Harry & Ms. Meghan Markle are incredibly grateful for the goodwill they have received since their engagement, & have asked that anyone who might wish to mark the occasion of their wedding considers giving to charity, instead of sending a gift," read the statement, which the Palace tweeted out.
Markle and Harry hand-picked which charities they suggested guests donate to in lieu of giving them gifts. "The couple have personally chosen 7 charities which represent a range of issues that they are passionate about, including sport for social change, women's empowerment, conservation, the environment, homelessness, HIV and the Armed Forces," read the statement. Markle and Harry ended up directing attendees towards Chiva Projects, "which supports children growing up with HIV and their families." They also chose Crisis, which "helps people directly out of homelessness, working side by side with thousands of people each year to help them rebuild their lives and leave homelessness behind for good." Additionally, the royal couple included Corporal Scotty and Street Games, "which uses sport to empower young people to kick-start a cycle of positive change in their own lives."
Most notably, though, they selected one organization which does the feminist work Markle has stated she hopes to do in her official royal bio. Named Myna Mahila, the charity they highlighted "empowers women in Mumbai's slums by providing them with a trusted network, stable employment & the chance to grow as individuals & businesswomen, and breaks taboos around menstrual hygiene." Markle visited the charity to see its efforts in action in March, later penning an essay about the importance of it for TIME.
"To break the cycle of poverty, and to achieve economic growth and sustainability in developing countries, young women need access to education," she wrote. "When we empower girls hungry for education, we cultivate women who are emboldened to effect change within their communities and globally. If that is our dream for them, then the promise of it must begin with us. Period."
Related: Well, It Looks Like Prince Harry and Meghan Markle Are Actually Going to Canada For Their Honeymoon