Well, It Looks Like Prince Harry and Meghan Markle Are Actually Going to Canada For Their Honeymoon
Or else they're going to add it to the long list of places they're not going.
---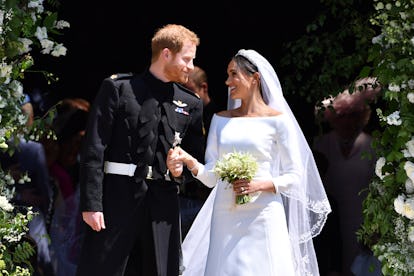 WPA Pool/Getty Images
The list of places Meghan Markle (or, rather, Meghan, Duchess of Sussex) and Prince Harry are not honeymooning is quite exhaustive: Not Botswana, where Harry took Meghan to a secluded safari camp near the (imperiled) Okavango Delta to celebrate her 36th birthday last year, and from which he acquired the center diamond for her engagement ring. Not Namibia, either, though "royal expert" Omid Scobie told Elle that Africa is "the one side of the world where Harry says he feels like he can be himself." (Scobie also posited the Seychelles, where William and Kate honeymooned in 2011, and Zanzibar as prospective locations.) Not Australia—they're traveling to Noosa, Queensland, for a non-honeymoon vacation. Not Hawaii, both of which were rumored as recently as this weekend, or Ireland, which was speculated as the location of a "mini-moon," according to The Cut. No, not even the rest of continental Africa, despite Scobie's prediction, or Nevis, another contender, because at last, Meghan and Harry seem to have locked down a honeymoon location.
According to the latest intel from the intrepid investigators over at TMZ, Meghan and Harry will honeymoon in Alberta, Canada, where they plan to stay at the Fairmont Jasper Park Lodge's Outlook Cabin, a private enclave measuring 6,000 square feet. Though a Canadian honeymoon seems like the most quotidian of options, the park—situated in the middle of a national park in the Canadian wilderness—has actually played host to Queens Elizabeth (better known as the Queen Mother) and Elizabeth II, as well as Anthony Hopkins, John Travolta, Bing Crosby, and Bill Gates. Marilyn Monroe once shot a film there.
TMZ also reported "the resort ordered some gear and goodies it doesn't normally keep on hand" for the royal couple to augment their stay—because simply staying in a guesthouse with a nearly-$7,000-per-night price tag wasn't quite sufficient.
There's a perfectly logical reason Meghan and Harry have continued to switch their honeymoon plans, and it's not just that, once in a while, the tabloid rumors are bound to get it wrong. "Details of their trip will be kept secret," Scobie told Elle. "If a location leaks prior to travel, it compromises their safety on the trip, and they'll be advised by their protection team to change plans." (So, taking into account the observer effect, perhaps they won't go to Alberta after all.) Still, if they were hoping to avoid the prying eyes of paparazzi, they could probably do better than mainland North America. So, Zanzibar it is?
Related: Meghan Markle and Prince Harry's First Official Royal Wedding Photos Do Not Disappoint