Meghan Markle and Her Dad, Thomas Markle, Reportedly Have 'No Chance' of Mending Their Relationship
There's "no chance" they'll be reconciling, according to the latest report.
---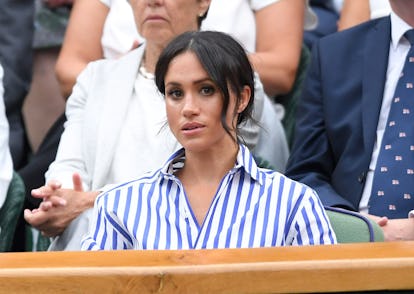 Karwai Tang/WireImage
Family drama: No one is safe from it. While Meghan Markle has done an admirable job of dealing with her father Thomas Markle's embarrassing interviews, she apparently has no plans to mend their relationship any time soon. The latest update on their divide comes from a source close to the Duchess of Sussex, who allegedly revealed that their issues go back way before the royal wedding.
"They've had problems for some time – from before she met Prince Harry," the source revealed to The Daily Mail, adding that "a reconciliation is completely off the table at the moment. There's no chance right now – he's been a complete embarrassment."
Indeed, Thomas Markle's latest interview with that very tabloid was cringe-worthy. In it, he not only claimed credit for shaping Meghan into the duchess she's become, he also spoke out against the royal family. "They [the royal family] have Meghan treating her father in a way that Harry's mother, Princess Diana, would have loathed," he said. "That's not what Diana stood for. Princess Diana is credited with changing the royal family, but she wasn't perfect. She was still very much one of them… I refuse to stay quiet. What riles me is Meghan's sense of superiority. She'd be nothing without me. I made her the duchess she is today. Everything that Meghan is, I made her." He also added, "I don't care if Harry never speaks to me again, I'll survive."
Markle and the royal family are, allegedly, not fazed by this latest display, though. "She's amazed by what's happened but is taking what he says with a grain of salt," the source said. "The royal family isn't as upset as you'd think either. Nothing any of them [the Markle family] say has any real consequence and they [Meghan and Harry] have more important things to focus on."
Indeed, while Markle's father's is launching himself at any one with a microphone who will pay him, Meghan herself is apparently being somewhat sheltered from the media. One longtime royal reporter claims that the royals are keeping reports at a distance from Markle. Literally. At public appearance, the press are being kept away far enough where they can't interact or hear what she's saying.
Related: Meghan Markle's Estranged Family are Using the Trashiest Parts of England Against Her