Meghan Markle Stars in Feminist Ad for UN Women
It's a new era for the monarchy.
---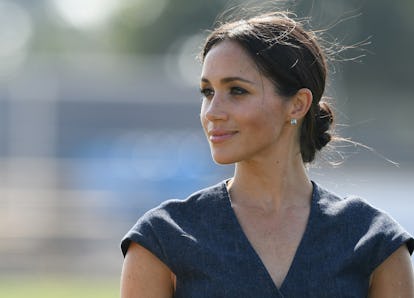 Anwar Hussein/WireImage
It's been only a few months since Meghan Markle and Prince Harry tied the knot, but she's already started work on her royal legacy. That includes bringing more awareness to gender inequality, as she pledged on the British monarchy's website she would do . She's making good on that promise, starring in a new ad for UN Women.
"We see potential leaders everywhere," the tagline reads. "It's time for more women to see it in themselves. Nominate a woman in your life."
This isn't the first partnership Markle has had with UN Women. Back in 2015, before Markle had even met Prince Harry, the then Suits actress gave a rousing speech on International Women's Day for UN Women. In it, she talked about her feminist awakening at the age of 11, when she campaigned against a sexist Proctor & Gamble ad and eventually got them to change it. "They changed it from 'Women all over America are fighting greasy pots and pans' to 'People all over America,'" she said. "It was at that moment that I realized the magnitude of my actions. At the age of 11 I had created my small level of impact by standing up for equality."
In the same speech, Markle spoke about the importance of feminism, saying, "I am proud to be a woman and a feminist…. [Gender inequality] has to change. Women make up more than half of the world's population and potential, so it is neither just nor practical for their voices, for our voices, to go unheard at the highest levels of decision-making…. Women need a seat at the table, they need an invitation to be seated there, and in some cases, where this is not available, well then, you know what, they need to create their own table."
She's since made that her mission with her role at the Royal Foundation, as she revealed in February. "Even if it's doing it quietly behind the scenes, which is what I've focused my energy on thus far," she said, "Meeting with the right people, meeting with the organizations behind the scenes quietly, learning as much as I can so I can maximize the opportunity we have here to really make an impact."
Markle also referenced the #MeToo and Time's Up movements, adding that "there is no better time than to really continue to shine a light on women feeling empowered and people really helping to support them, men included in that."
One man included? Her husband Prince Harry. As she previously told a fan of Harry's, "He's a feminist too, so there's that."