Meghan and Harry Join the Podcast Wars With Spotify Deal
Like every comedian in Brooklyn and influencer in Hollywood, they're getting a podcast.
---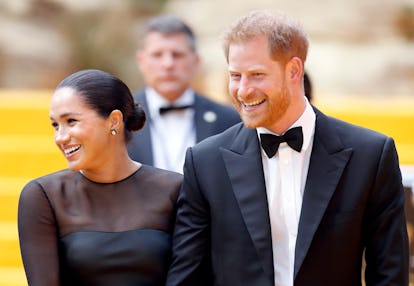 Interest in being knighted by the Queen is waning, but we have a feeling everyone who is anyone may soon want to be a "friend of the pod" for Meghan Markle and Prince Harry. Yes, the Los Angeles-based Windsors have signed a mega-deal with Spotify to produce podcasts under their burgeoning Archwell Audio production banner. Details are still light, but the pair will actually be hosting programs themselves.
According to a report in Variety, the deal will kick off rather quickly, with a special holiday episode hosted by Meghan and Harry. Regular programming will then begin to appear in 2021. In addition to jumping on the mic themselves, the deal will also include producing podcasts on various topics with other hosts as well. Monetary specifics have not surfaced, but the contract is multiyear.
"What we love about podcasting is that it reminds all of us to take a moment and to really listen, to connect to one another without distraction," the couple said in a joint statement. "With the challenges of 2020, there has never been a more important time to do so, because when we hear each other, and hear each other's stories, we are reminded of how interconnected we all are."
The podcasts will be available for free on Spotify without ads for subscribers and with ads for everyone else.
The deal comes as Spotify continues to beef up its exclusive library to compete in the booming podcast wars. After buying the Gimlet Media podcast network in 2018, the Sweden-based company has continued to shell out big money to ink exclusive podcast deals with talent directly. Their roster includes everyone from Kim Kardashian West (for a criminal justice-themed series) to TikToker Addison Rae and lecturer Brené Brown to (most controversially and expensively) Joe Rogan.
Spotify is also the exclusive home to podcasts produced by Barack and Michelle Obama's production company, Higher Ground.
Ever since stepping down from their day-to-day royal duties, the Sussexes have seemed to follow the Obama's post-presidency game plan to a T. The Obamas signed with the Harry Walker Agency to book speaking gigs, and so did the Sussexes. The Obamas signed a production mega-deal with Netflix, and so did the Sussexes. The Obamas entered a pact with Spotify, and now, too, have the Sussexes. So far the only step that Sussexes haven't followed is nailing down publishing deals for their memoirs—though we suppose that may come in time.
The pivot to show business for the Sussexes should come as no surprise. It was understood when they broke free of traditional royal duties that they would become financially independent, and it's only natural for Markle to return to her roots.
The move isn't entirely unprecedented for the Windsors, either. Harry's aunt Sarah, Duchess of York has also dabbled in film and television production over the year, most notably with the Emily Blunt-starring film Young Victoria.
Related: Is L.A. Ready for Meghan and Harry?