Meet the British Designers Behind Meghan Markle's Favorite Sunglasses Label
Markle has been spotted wearing Finlay & Co glasses on multiple occasions.
---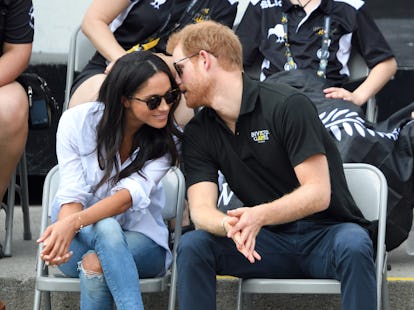 Photo by Karwai Tang/WireImage via Getty
As the inquiring public slowly gets to know Meghan Markle, the actress, humanitarian, and now, fiancée to Prince Harry, they've learned about her transition into the royal family with the help of future sister-in-law Kate Middleton, and that she'll break with tradition and give her own speech at the couple's wedding reception. And, as of yesterday, we know that she can rock a suit on the red carpet. That suit was in fact, was from Alexander McQueen, and it was another example of how Markle is not only adjusting to her life in London but also beginning to champion the designers from her new home.
But back before we knew she would become 'Princess Meghan,' a moniker some (Americans, mostly) insist upon calling her, Markle stepped out for her first official public appearance with Prince Harry looking chic yet relatable. While her big smile gave away that she was fully enjoying herself at the Invictus Games, she hid behind a chic pair of sunnies with her initials 'MM' engraved on the arm.
While much of the speculation of this outing revolved around a pending engagement, there were four Brits who looked upon the couples' appearance in a much different light. When we found out about Meghan wearing [the glasses], I happened to be on the tube and I let out a small squeal of joy and then punched the air three times. I got some strange looks that day!" said David Lochhead, one of the four British co-founders behind the optical label Finlay & Co.
While Gigi Hadid, Cara Delevingne, Jessica Alba, and Emma Stone are all known to wear the brands' sunnies, but it just so happened to be Rihanna who originally put the label on the map. A few days after Christmas in 2015, the singer was snapped in her native Barbados, shielding her eyes from the sun in one of Finlay's wooden framed glasses.
[#instagram:https://www.instagram.com/p/_1RSokurx8/?taken-by=finlayandco]
Yet, with all these it girls wearing the label's fashion-forward glasses out and about, nothing compared to the moment Markle stepped out in the brand's Percy sunglasses at the Invictus Games in Canada. Markle then wore the same sunglasses again a few weeks later while shopping in near Sloane Square in London, and many women decided to purchase the same pair, leading Finlay to have their best months ever through to the end of 2017. Earlier this year, Finlay & Co. decided to open up their own first brick and mortar in London's Soho neighborhood, carrying the Percy style worn by Markle, their full collection, and sunnies from under-the-radar labels from around the world.
[#instagram:https://www.instagram.com/p/Bbxidj2A_4e/?taken-by=finlayandco]
"We feel honored that she chose to wear Finlay," Lochhead said. "We're thrilled that Meghan is embracing younger British brands as well as continuing to wear many of her favorite designers. As a global style icon, she is shining the spotlight on the talent that we have here in the UK."
Related: How Meghan Markle is Helping Redefine Standards of Beauty