Meghan Markle Reveals She Suffered a Miscarriage This Summer
In an opinion piece for The New York Times, Meghan Markle, the former Duchess of Sussex, revealed she suffered a miscarriage in July.
---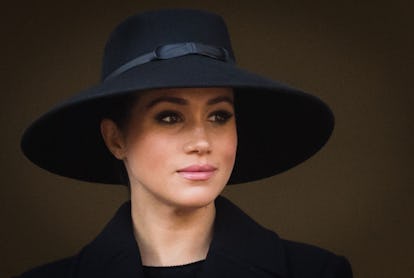 Photo courtesy of Getty Images.
For Meghan Markle and Prince Harry, 2020 has certainly delivered its ups and downs. At the top of the year, the couple left the royal family, a move which was coined by the press as "Megxit" and left the Queen to insist that despite what had been reported in the news, everyone was still one big happy family. The former Duke and Duchess then moved with their son, Archie, to Canada, only to be swarmed by paparazzi, then to Malibu (and being near Hollywood didn't help in the paparazzi department either). They finally settled in Santa Barbara, launched a Disney+ project, and rebranded as the Sussexes.
But all the while, Markle was quietly suffering. According to the former royal, one typical July morning she "felt a sharp cramp" while holding onto her son, and dropped to the floor. "I knew, as I clutched my firstborn child, that I was losing my second," she wrote in an opinion piece for The New York Times. She recalled going to the hospital soon after with Harry as they learned that she had suffered a miscarriage.
In the editorial, she writes about a moment from the year prior, when she was touring South Africa with Harry and Archie. The experience was filmed as part of an ITV documentary called Harry & Meghan: An African Journey. "I was exhausted," she wrote in the Times. "I was breastfeeding our infant son, and I was trying to keep a brave face in the very public eye."
It was then that a journalist asked her a very simple question: "Are you OK?" Markle, in what she described as an "off-the-cuff reply" told the reporter, honestly, that not many people had ever asked her that question before. At the time, she opened up about the difficulties of living a very public life that has been ripped apart by tabloids, and her candor was duly noted.
Now, retracing that interview in her Times piece, Markle explained the parallels with her experience of mourning the loss of her second child. "Sitting in a hospital bed, watching my husband's heart break as he tried to hold the shattered pieces of mine, I realized that the only way to begin to heal is to first ask, 'Are you OK?'," she wrote. "This year has brought so many of us to our breaking points. Loss and pain have plagued every one of us in 2020, in moments both fraught and debilitating," she continued, noting the impact of the coronavirus pandemic and the millions dead worldwide, the racial reckoning amplified this summer after the deaths of Breonna Taylor and George Floyd, and the general inability to agree on what constitutes truth.
"Losing a child means carrying an almost unbearable grief, experienced by many but talked about by few," she said, citing the statistic that "in a room of 100 women, 10 to 20 of them will have suffered a miscarriage" to explain how common they are, despite the fact that the conversation surrounding them remains taboo.
The former Duchess of Sussex ended her piece with a plea to ask others how they're doing. "As much as we may disagree, as physically distanced as we may be, the truth is that we are more connected than ever because of all we have individually and collectively endured this year."
Related: Royal Family Attempts to Squash Rumors of a Kate Middleton and Meghan Markle Rift