Meghan Markle Was Photographed in All Her Pregnant Glory by Prince Harry in the Redwoods
Prince Harry snapped an arty pic of his pregnant wife amid redwoods.
---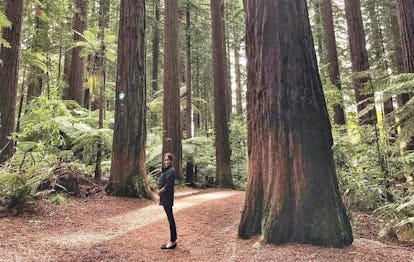 instagram.com/kensingtonroyal
Meghan Markle and Prince Harry may not be comfortable with all of the attention they've received over the past year, but they're slowly sharing more bits and pieces from their personal lives—under their own control. Such was the case when Prince Harry shared a rare personal photo that he took of his wife, who is pregnant with their first child.
Meghan and Harry were on a hike through the Redwoods Forest in Rotorua, New Zealand, when he took the photo. Yes, even royals can't resist Instagramming their hikes. In the picture, Meghan stands beneath century-old trees while cradling her pregnant stomach in the forest light. Harry shared the photo to Instagram—well, not his personal account (no U.K. royals are allowed to have their own social media presence, outside of Princess Eugenie), but the account shared by him, Meghan, Prince William, and Kate Middleton, dubbed @kensingtonroyal.
To let people know that he actually took the photo, it was posted with the credit "? The Duke of Sussex." In the caption, Harry and Meghan shared the message, "Thank you New Zealand for the most wonderful last week of our tour. It has been a privilege to meet so many friendly Kiwis." They added, "Australia, Fiji, Tonga and NZ – we leave feeling inspired and reminded of how every single one of us can make a difference," before dropping a quote by the New Zealand feminist Kate Sheppard: "The rain that refreshes the parched ground, is made up of single drops."
Yesterday, their social media account shared more photos of the glowing pair in the redwoods, with the note, "Home of treewalks, mountain biking and 100-year old trees — The Duke and Duchess of Sussex visited the spectacular Redwoods Treewalk in Rotorua, a series of suspension bridges traversing the gaps between its majestic trees, each with their own living deck to ensure viewing platforms adapt to the trees' rapid growth without any harm."
Harry's photo of Meghan marks the first time the prince has shared a personal photo of his wife on social media, but not the first time they've shared a personal photo together. Just recently, Meghan shared a picture she took of Prince Harry "getting ready for [the] @invictusgames2018 closing ceremony."
With their collective feminism and new embrace of social media, Prince Harry and Meghan Markle really are starting a new era for the Crown.