Prince Harry and Meghan Markle Are Taking a Break From the Spotlight
Harry thinks there's "too much hysteria" over his new bride.
---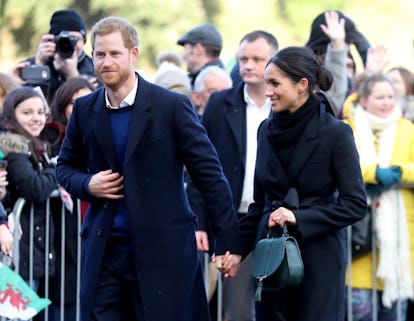 Chris Jackson/Getty Images
Meghan Markle is used to the spotlight, but not even she could have been ready for life as a member of the royal family. In fact, the former Suits actress has been under such intense scrutiny since her wedding that she and Prince Harry have reportedly decided to step back from the public eye.
According to Vanity Fair, Harry has become increasingly concerned about the public's intense fascination with his new wife. "He worries there is too much hysteria around Meghan and he wants to row back a bit," a source told royal expert Katie Nicholl. Since tying the knot this past spring, the Duke and Duchess of Sussex have given the people what they want: a string of public appearances in which Meghan has solidified her status as a major new style icon.
But keeping such a high profile also comes with its drawbacks, especially in the U.K., where the tabloids can be relentlessly invasive. Just ask Meghan's dad, Thomas, who has already started to profit from granting salacious interviews to the press.
Just last week, the newlyweds were spotted kissing at the Sentebale Polo Cup in Windsor, where they did their best to avoid being photographed. "It was quite clear that they didn't want the press anywhere near them," said a photographer who was at the event. "They were photographed on the red carpet and at the end of the match, but they wanted to be left alone the rest of the time, even though this was a major charity event for Harry with a big international press presence."
Luckily for them, they have access to a large number of sprawling, remote properties that are virtually off limits to civilians. One of them is the Great Tew Estate in the Cotswolds, where they've been renting a cottage and enjoying a "low-key and very domesticated start to married life." And if you're thinking about stopping by for an impromptu cup of tea, think again. The area is rigged with security cameras and patrolled by armed guards. So what shall we do to get our Meghan fix for the rest of the summer? Oh, right. All seven seasons of Suits are streaming on Netflix.
Related: Meghan Markle and Her Dad, Thomas Markle, Reportedly Have 'No Chance' of Mending Their Relationship