Meghan Markle and Prince Harry's Palace Aides Keep Quitting on Them
Good help is hard to find — even for royals.
---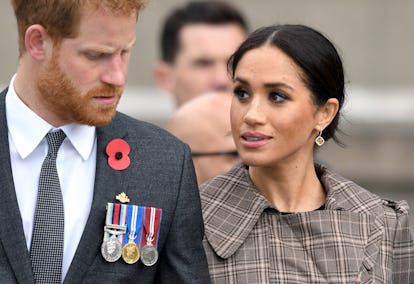 Karwai Tang/WireImage
There are few humans at the moment who elicit as much reaction as Meghan Markle and Prince Harry. The royal grandson has gone as far as to call what follows his bride "hysteria." (They even took a break earlier this year to escape it.) Now, it seems like the couple's Palace Aides are having as hard of a time adjusting to the couple's heightened profile. At least, that may be one reason that three of their staffers have quit or or put in notice this year.
The latest two happen to be Markle's staffers. Following the exit of Edward Lane Fox, Prince Harry's "right-hand man" of 15 years, Markle's personal assistant Melissa has reportedly quit, as The Daily Mail reports. "It's a real shock, why would she want to leave such a prestigious job so soon?" one source told the tabliud, adding, "Melissa is a hugely talented person."
Perhaps more surprisingly than the six-month turnover of a personal assistant is the fact that Markle and Harry's private secretary Samantha Cohen, who reportedly prepared the Duchess of Sussex throughout her royal transition, is also leaving. Cohen, who was hired by Harry's grandmother Queen Elizabeth II, recently announced she would be quitting. "She played a pivotal role in the success of the Royal Wedding and will be missed by everyone in the Royal Household," the source said, adding, "To lose one member of the household could happen to anyone. To lose three in a few months is starting to look like a stampede."
Three people hardly accounts for a "stampede," but it is eyebrow-raising in the highly buttoned up world of the English monarchy. As The Crown has taught us, when a Palace Aide leaves, it's rarely due to chance. Who knows what could be behind the three departures but keeping up with Meghan and Prince Harry's affairs does seem like more than the ordinary professional challenge. This year alone that's included the most-talked-about wedding of 2018, a royal pregnancy, and a world tour, which they are currently in the middle of. This is all royal business as usual, though, for the most part. Given the monarchy's history, don't expect to hear any revealing explanations for these departures any time soon.