Meghan Markle and Prince Harry Met Scotland's Infamous Rude Pony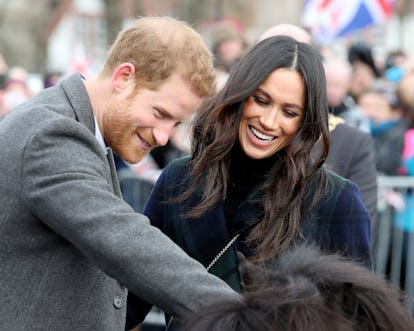 Chris Jackson/Getty Images
Meghan Markle and Prince Harry received quite the warm welcome during their first official joint visit to Scotland on Tuesday. Though, by now, the newly engaged couple are definitely used to being greeted by screaming crowds everywhere they go, the crowds outside Edinburgh Castle were even more special: Not only did Meghan and Harry receive Valentine's Day gifts from several Scots, but they also got to spend some time with who we're just going to assume is Lil Sebastian's feisty Scottish cousin.
As seen in a video posted by the official Kensington Palace Twitter account, after being greeted outside the castle by the band of the Royal Marines, the royal duo said hello to the mascot of The Royal Regiment of Scotland, a Shetland pony named Cruachan, who was wearing a tartan blanket that matched Meghan's Scotland-inspired coat. In the clip, Harry and Meghan give Lil' Cruachan a pet and talk to his handler before Harry goes back for another pat and almost loses a finger or two. As People notes, Cruachan is known for being particularly irreverent toward the royal family: When Queen Elizabeth II visited Scotland last summer, she had to scold the pony and hide her bouquet behind her back after he tried to nibble at her flowers.
After saying their hellos and receiving plenty of small stuffed animals and heart-shaped cards from members of the crowd, Meghan and Harry, who assumed his grandfather's title of Captain General of the Royal Marines last year, observed the daily firing of the One O'clock Gun, which has fired just after midday every day since 1861. The couple then stopped by Social Bite in the city center, one of a chain of cafés that serves and employs homeless people in its efforts to fight homelessness. In photos shared by the royal Twitter account, Harry and Meghan appear excited to chat with workers and owners of Social Bite about their powerful mission.
For the trip, Harry wore a navy blue sweater, gray coat and pants, and navy blue shoes, while Meghan opted for a black turtleneck and black Veronica Beard floor-skimming trousers, a green and navy plaid knee-length Burberry coat, and a green leather crossbody purse by Scottish designer Strathberry, according to the BBC.
Prince Harry and Meghan Markle's visit to Scotland is just another in a long line of trips on the agenda before they tie the knot at St. George's Chapel in Windsor Castle on May 19. Since announcing their engagement in November, the pair have already visited Nottingham, the South London neighborhood of Brixton, and Cardiff, Wales, always making a point to chat with their well-wishers on the street and visit places fighting for the social good.
Relation: Meghan Markle Is Now Getting Royal Fashion Advice From Victoria Beckham