Not Every Meghan Markle Dress Is Going to "Channel" Princess Diana
Her latest outfit was all her own.
---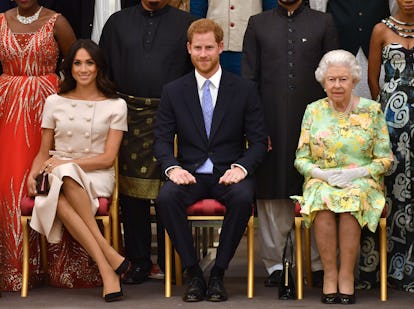 WPA Pool
Over the past couple of years the British royal family has become the subject of the world's biggest ongoing game of "this thing kind of looks like this thing, doesn't it?!" You've seen the headlines. The ones that point out that Prince George looks so much like Prince William when he was young (yes, folks, family genetics are real), or trying to discern the similarities and differences between recent royal weddings and the ones that came before. Even Prince William himself got in on the game recently by purposefully re-creating an old family photo his wife had posed for as a child.
Of course, the most prevalent is the type of story that attempts to illustrate that a certain outfit worn by Kate Middleton or, more recently, Meghan Markle is somehow channeling their late mother-in-law Princess Diana. It's an easy game to play, too. Even though her life was cut tragically short, Diana still spent nearly two decades in the public spotlight as one of the most frequently photographed women on earth. She also happened to wear a whole lot of different outfits during that time. So anyone with a photographic memory and a keen mastery of searching images online can play it. If Meghan steps out in a blue skirt suit, it's not too hard to fire up your typing fingers and find a picture of Diana at one point wearing a blue skirt suit as well, and, voilà! You too can create your own "Meghan Markle's Latest Outfit Is Giving Us Serious Princess Diana Vibes" story.
It's not like it's completely off base either. While we highly doubt Markle and Middleton are consistently poring over archival images of their husbands' late mothers and trying to find subtle ways to always pay tribute to her in their outfit choices (and wouldn't it be a bit creepy if they did?), Diana was a bona fide style icon. She crafted the definitive modern image of what it is to dress like a young and glamorous British royal, and in that cosmic way Kate, Meghan, and any other young member of the U.K.'s nobility can't help but be influenced by and compared to her a little bit, especially when dressing within the confines of official royal engagements. (Unless, of course, they take pains to try and avoid it—see Duchess Sarah Ferguson's decision to wear French designers over English ones during her own days as a member of the royal family).
Today, however, Markle wore a dress to the Queen's Young Leaders awards at Buckingham Palace that stretched the limits of her game. It wasn't outrageous or anything. It was an elegant blush Prada dress with double breasted detailing up top. As it turns out, Princess Diana hadn't worn anything particularly like it before. Still, the internet tried its best. Princess Diana had worn double-breasted jackets before, and she had worn a slightly similar shade of blush prink, so they stuck with the formula.
Other outlets realized it was a tenuous comparison at best, and tried to compare her to other icons. Popsugar UK decided she had "Jackie O Vibes." Then there's a whole other school who believes that ever since she wore a Givenchy dress to her wedding, every Markle outfit is secretly channeling original Givenchy muse Audrey Hepburn. Others gave up on the dress and just pointed out that Markle's hair looked sort of like Middleton's.
There's no harm to the game. We get it! It's fun! We like seeing things that sort of look like other things! That's half the Internet at this point!
Still, it does obscure the more interesting story: in the handful of public appearances Meghan has undertaken as an official royal since the wedding, she does seem to be developing a royal style all her own. Today's outfit included some of her hallmarks so far: boatneck collars (like the wedding dress), belted dresses, and a preference for more neutral hues in the beige, white, and very blush pink families.
Markle is a British royal unlike any before her, and at the end of the day it's much more interesting to view how her own royal style develops than to compare everything she wears to something else. Besides, we'll never have another royal style icon like Diana if we don't allow other young royals' style to exist outside of her shadow.
Related: Is Meghan Markle Really Breaking So Many Royal Traditions?