What Scottish Titles Will Meghan Markle And Prince Harry Get When They Marry?
They'll become the Earl and Countess of…somewhere!
---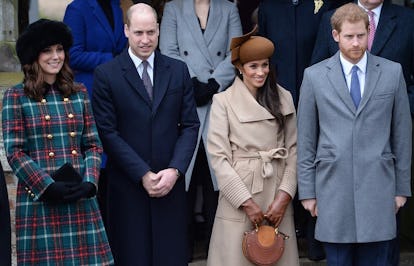 Kensington Royal/Instagram
As anyone who has studied British history knows, the rules of the monarchy are really complicated and confusing. Especially when you marry into the royal family. Kate Middleton, for example, is the Duchess of Cambridge, and not Princess Catherine, though she is married to Prince William and her children are Prince George and Princess Charlotte. Prince Philip, William's father, is the Duke of Edinburgh and not a king, though he's married to Queen Elizabeth II. (Anyone who watched The Crown knows how touchy this was.)
So, though everyone keeps calling Meghan Markle Princess Meghan, she won't technically have that title even after she marries Prince Harry in May. Instead, both Markle and Harry will likely become the Duke and Duchess of Sussex. (Harry will still be a prince, as well.) But wait, there's more! They will also get Scottish titles, and it's widely believed that Queen Elizabeth II will grant the couple the titles of Earl and Countess of Ross.
According to UK outlet The Press and Journal, they will receive an earldom, but it's not certain that it will be Ross. "The Scottish title Prince Harry receives is likely to be an earldom but there are very few clues here," said Wendy Bosberry-Scott, co-editor of the reference book Debrett's Peerage and Baronetage, "One potential candidate is Ross, but this was last held by Charles I – who was executed in 1649 – so it may well be considered unlucky…Dumbarton is another possibility but, at this point, it is merely speculation and many factors will have to be considered before a suitable title is chosen." (Will and Kate's Scottish titles are the Earl and Countess of Strathearn, and Prince Charles' is the Duke of Rothesay, per Elle.)
Either way, Americans will likely keep calling Meghan Markle a princess. And though it's not accurate, it just rolls of the tongue easier than Her Royal Highness, The Duchess of Sussex, Countess of Ross and Lady Somewhere Else.
Related: Prince Harry and Meghan Markle's Matchmaker Is Revealed to Be Violet von Westenholz