Prince Harry and Meghan Markle's Matchmaker Is Revealed to Be Violet von Westenholz
Her identity is finally revealed. Spoiler: she's posh.
---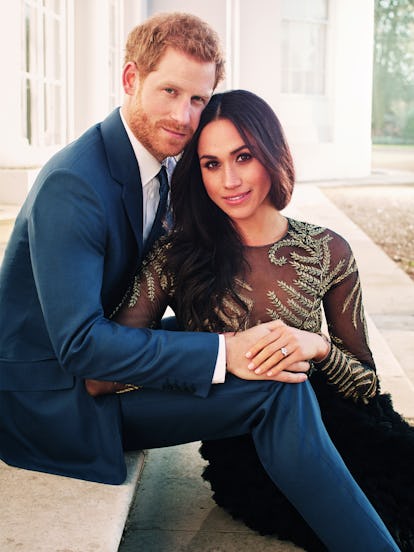 Photo by Alexi Lubomirski via Getty Images
When Prince Harry and Meghan Markle gave their first joint interview last November, in the wake of their historic engagement, the newlyweds to be revealed that their meeting wasn't by chance—a mutual friend had set them up. Since then, however, speculation has led to a handful of names but none have been confirmed, until now. It turns out that one of Prince Harry's childhood friends played cupid. Violet von Westenholz—a daughter of a British Baron, a close friend of Prince Charles, who met Markle through working in PR at Ralph Lauren—was the royal matchmaker.
"Meghan had been a part of the London social scene for a while and had slotted into the high society set really easily. And so when Harry told Violet he was having trouble finding someone, Violet said she might just have the perfect girl for him," a source told E! News, which confirmed von Westenholz was indeed the friend that set up Prince Harry and Markle.
"It was definitely a set-up," as Markle recalled in their BBC interview. "It was a blind date. I didn't know much about him and so the only thing I had asked her when she said she wanted to set us up was, I had one question, I said 'Was he nice?'" Meanwhile Prince Harry recounted their first meeting as, "We were introduced actually by a mutual friend… it was literally…. through her and then we met once and then twice back-to-back two dates in London, last July. We'll protect her privacy yeah. And then it was I think about three, maybe four weeks later that I managed to persuade her to come and join me in Botswana. And we—we camped out with each other under the stars, we spent—she came and joined me for five days out there, which was absolutely fantastic." To which Markle added, "We should protect her privacy and not reveal too much of that."
Interestingly, Violet von Westenholz was first revealed as a possible contender back in November, when The Daily Telegraph suggested it as a possibility and asked her point blank if she was Prince Harry and Markle's matchmaker. "I might leave that for other people to say [who it is]," she said, according to Metro UK. "It's a great story and I am sure they are going to be very happy together. I am just happy they are really happy. They are great together."
It's also worth noting that on June 4, 2017, Markle posted a selfie with her and Prince Harry's mutual friend on her since-deleted Instagram."How much more could I adore this gem thank you Violet von Westenholz," she wrote on the post. In other words, expect to see von Westenholz at the royal wedding this spring.