Emilia Wickstead Walks Back Criticism of Meghan Markle's Givenchy Wedding Dress
The London-based designer was previously rumored to be in the running to design the royal wedding dress.
---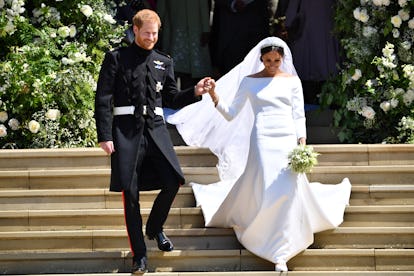 WPA Pool
Emilia Wickstead, who, earlier in the week, kind of went off about Meghan Markle's wedding dress, has since backtracked on her earlier comments. Whereas previously she had told the Daily Mail the dress "is identical to one of our dresses"—a tidy soundbite that was immediately picked up across the internet and prompted many observers (including the Instagram account Diet Prada; more on that later) to defend designer Clare Waight Keller, whose Givenchy gown Markle did end up wearing—Wickstead is now recanting.
She gave a statement to The Cut, published Sunday, in an attempt to clear up the whole thing: "Her Royal Highness, the Duchess of Sussex, looked absolutely beautiful on her wedding day and I have the utmost admiration and respect for her," Wickstead wrote. "I do not think that her wedding dress was a copy of any of our designs. I have the greatest respect for Clare Waight Keller and the House of Givenchy—a huge source of inspiration to me."
To recap: In the months leading up to Meghan Markle's wedding to Prince Harry—which now makes her Meghan, Duchess of Sussex, as a Google search for her film credits eagerly points out—rumors abounded regarding pretty much every element of the event, including the dress Markle would wear for the ceremony. Wickstead was among the potential designers floated, but, as seen on the day of the wedding last weekend, Markle went with a couture gown by Clare Waight Keller at Givenchy, an off-the-shoulder, boatneck design that paid homage to designs by the house's founder Hubert de Givenchy.
But apparently, Wickstead was none too pleased with the similarities between one of her designs and the Givenchy look that the Duchess of Sussex selected. In addition to her comment that the dress is "identical" to her own, she also took the opportunity to take a knock at other details of Markle's look: "If you choose a simple design, the fit should be perfect. Her wedding dress was quite loose," Wickstead said. (Katy Perry agrees.) Plus, she was not a fan of Markle's trademark messy bun: "I was like, 'Hold the wisps back—it's a royal wedding, for god's sake.'" (The Daily Mail story was written by the maybe almost definitely pseudonymous Sebastian Shakespeare, so everything with a grain of salt, people.)
Shortly after, Instagram's fashion watchdogs Diet Prada weighed in: "Personally did not expect someone at her level to try and make this historic moment about herself smh. Pro tip: Don't bite the hand that feeds you if you want to keep cashing those royal paychecks lol," they wrote. (Kate Middleton, Duchess of Cambridge, frequently wears Wickstead's designs; Markle also recently wore one of her dresses, though perhaps no longer.) In a subsequent post, they also noted similarities between one of Wickstead's designs and a vintage Jacques Fath look—because, after all, fashion thrives on adapting old looks for new eras. Everything is cyclical.
Related: Meghan Markle's Wedding Dress Is Givenchy, and It's Stunning