Melania Trump Breaks Her Silence, Plagiarizes Herself
The First Lady has finally acknowledged last week's violence at the Capitol, though not that her husband incited it.
---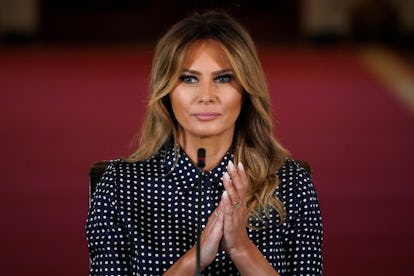 Photo by Drew Angerer via Getty Images
On Monday morning, House Democrats officially moved forward with impeaching the president for inciting last week's deadly siege at the Capitol. Meanwhile, after five days of silence, First Lady Melania Trump finally acknowledged it. A portion of the delay is explainable. Trump, who was doing a photo shoot for a potential coffee-table book on her White House decorations, had to catch up first. But from the look of the statement she issued on Monday morning, Trump has mostly just been stewing. The First Lady appears to believe that the insurrection, which claimed five lives, was actually about her.
"I am disappointed and disheartened with what happened last week," Trump wrote, then immediately pivoted to herself. "I find it shameful that surrounding these tragic events there has been salacious gossip, unwarranted personal attacks, and false misleading accusations on me—from people who are looking to be relevant and have an agenda. This time is solely about healing our country and its citizens. It should not be used for personal gain."
Trump did not mention her husband when vehemently condemning the violence he incited. But she did give a shout out to the three civilians and two Capitol Police officers who died from injuries sustained at the Capitol. Notably, Ashli Babbitt, the 35-year-old Air Force veteran who died attempting to break in, got first billing. (Her name was also originally misspelt.)
Five days were apparently not enough for Trump to proofread her statement. Trump's top staffers—two of whom resigned have resigned since Wednesday—also failed to change up even a single word in a sentence that first appeared in Trump's 2020 Republican National Convention speech: "The common thread in all of these challenging situations is American's unwavering resolve to help one another." The words concluded a surprising detour into the impact of natural disasters, just as they did last summer.
Lastly, Trump took the opportunity to bid farewell to her supporters. "It has been the honor of my lifetime to serve as your First Lady," she wrote. "I want to thank the millions of Americans who supported my husband and me over the past 4 years and shown the incredible impact of the American spirit." After four years of pretending to "give a f*ck" about Christmas, the First Lady will soon be free at last.
Related: The Melania Tapes Offer Rare Candid Insight into a Mysterious First Lady