Melania Trump Is Filling the Hole Left by SNL's Absence
No one, it seems, can parody Melania at her most bot-like as Melania herself can.
---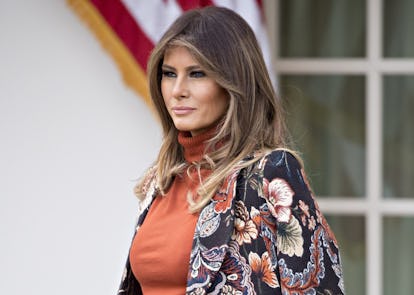 Andrew Harrer/Bloomberg
Since becoming first lady, Melania Trump seems to have developed a habit of dedicating herself to initiatives that are completely at odds with the ideology and behavior of her husband, President Donald Trump. First, there was Be Best—a campaign against cyberbullying, one of her husband's favorite activities. But the coronavirus outbreak has forced Melania to table her main platform for the time being. These days, she's dedicated herself to prevention of catching and spreading the virus—the same topic that her husband has been creating confusion about on a daily basis.
The paradox has never been more evident than in the video that Melania tweeted on Thursday. Whereas the president has spent the week abstaining from the CDC's recommendation to wear a cloth face mask, and stressing that doing so is voluntary, Melania has been urging Americans to do the exact opposite. Twice, she's posted the exact same tweet: "I ask that everyone take social distancing & wearing a mask/face covering seriously."
The same message is at the center of the video, which is just the latest in a surreal series that's done a remarkable job of standing in for Saturday Night Live skits. (The show has been on hiatus for weeks, in accordance with social distancing.)
On a very basic level, it's always a bit startling to witness the first lady actually speak. (Never mind that she's been in office for more than three years now.) Then there's the fact that for the first eight seconds of the video, Melania's forearm awkwardly hovers just in view of the screen. As it turns out, she's holding a face mask—one that she never actually puts on her face. Instead, she holds it for the duration of the video. Aside from slightly but steadily bobbing her head so as to work her angles, she stands perfectly still.
As in the video she posted the previous day, and the perplexing bit of graphic design that she tweeted later on Thursday, Melania's hair is styled into a Donald-like exaggerated swoop.
The look marks a departure from previous editions of "A Message From First Lady Melania Trump." In both of the coronavirus-related videos she tweeted in March, Melania wore a navy turtleneck and parted her hair only slightly to the side. She also looks remarkably tan—especially for someone who's preaching the importance of staying home.
A day after posting a general introduction to the dangers of coronavirus, Melania shared some tips and tricks for preventing families from getting sick. "Hello parents of America," she begins, her voice once again echoing throughout what appears to be a vestibule. "Children should wash their hands after coming in from outside; before eating; after coughing, sneezing, or blowing their little noses." (Yes, "little.") After stumbling over her words, and instructing viewers to "keep a positive attitude," she concludes with the same bot-like message: "Stay safe, and remember: While many of us are apart, we are all in this together."
On Thursday, Saturday Night Live announced that it will return this weekend with an episode that was produced remotely. On second thought, though, we might not even need Chloe Fineman's take on the PSAs. No one, it seems, can parody Melania at her most bot-like than Melania herself.
Related: No, This Chainsaw Statue of Melania Trump Is Not a Joke