Melania Trump Underwent Kidney Surgery Alone While Her Husband Was Busy Tweeting
The first lady is expected to stay for a week at Walter Reed Medical Center, which is just nine short miles from the White House.
---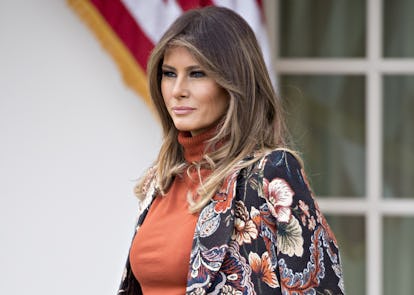 Photographer: Andrew Harrer/Bloomberg
On Monday, Melania Trump underwent kidney surgery at a medical center just outside Washington, D.C. The procedure was reportedly successful, but her husband was nowhere to be seen on the premises.
CNN reports that the first lady was admitted to Walter Reed National Military Medical Center in Bethesda, Maryland, on Monday afternoon and "will likely remain there for the duration of the week," according to her communications director, Stephanie Grisham, who released a statement announcing the status of Trump's health issues. "The first lady looks forward to a full recovery so she can continue her work on behalf of children everywhere," she continued. Trump's surgery came after she reportedly experienced a benign "issue" with her kidney.
Walter Reed is located just nine short miles from the White House, where Donald Trump reportedly remained during her embolization procedure. Even with traffic, it would only take a maximum of about 45 minutes to drive to the medical center, but the president had other business to take care of, apparently.
President Trump—who recently joked that his wife would be the next to "leave" the White House—has yet to release a public statement (or tweet) concerning the matter. He was, however, busy tweeting about the news coverage of the U.S. Embassy opening in Jerusalem and negotiations of trade deals in China. But considering the fact that the couple did not post to social media about their wedding anniversary in January (nor did they celebrate it at all, according to *The Washington Post), and how Melania previously wished to vacation alone on a "deserted island," it is hardly surprising that she underwent her kidney surgery in solitude.
It is rare for a first lady to undergo a serious medical procedure while still in the White House. Not since October 1987, when Nancy Reagan underwent a mastectomy, has a major surgical procedure been performed on the president's spouse. (It was also reported at the time that President Ronald Reagan visited his wife during her surgery, and offered to hold her hand after she woke up.) A decade before Reagan's mastectomy, Rosalynn Carter underwent prophylactic breast surgery, and in 1974, Betty Ford had a mastectomy after being diagnosed with breast cancer.
Update on 5/14/18 at 5:15 P.M.: The President has broken his silence on the matter and shifted gears to visit his wife at Walter Reed Medical Center. According to his Twitter, "she is in good spirits" after undergoing her kidney surgery alone.
Related: Brigitte Macron Talks Melania Trump and French Fashion, Says She Would Prefer Not to Look Like a "Flower Pot"