Melania Trump Shovels Dirt in Stilettos, Achieves Peak Melania Trump
The first lady has resumed her trolling, this time in Louboutins and $4,000 Valentino.
---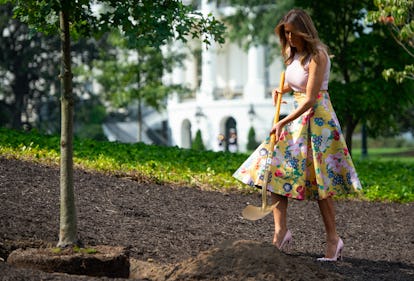 Saul Loeb/Getty Images
Well, it was only a matter of time before Melania Trump got back to one of her favorite pastimes: fashion trolling. The first lady did just that on Monday, when she had what she called the "honor to contribute to the beautiful & historic" White House grounds, by planting a sapling from the Eisenhower Oak. Spoiler alert: There were no gardening gloves involved.
In contrast to the pair of (brand-new) Converse and a (Balenciaga) flannel she wore when getting to work in the White House garden back in September, Trump didn't even pretend to go through the motions of dressing for the occasion. While she did indeed make it to the dirt, she remained loyal to her usual uniform, which is to say an expensive ensemble practically designed to incite outrage, à la her "I Really Don't Care" parka, which she wore on the way to visit immigrant children, and her appearance at the NATO summit this past July in what was pretty much the closest a first lady can get to wearing a naked dress.
This time around, Trump's trolling took the form of a pair of pastel pink Christian Louboutin stilettos; a tight, sleeveless tank top; and a $3,950 A-line Valentino skirt, which was made in Italy but, coincidentally enough, via the collection's theme and its floral print, pays homage to Cuba—the same country that the Eisenhower administration targeted with the (failed) Bay of Pigs Invasion, plotting to overthrow Fidel Castro. All that certainly matched the golden shovel Trump used—and further showed off by abstaining from using gardening gloves—though it also seems to further the idea that she truly Really Doesn't Care about the media's scrutiny, which is she must know is guaranteed at this point.
To be clear, the golden shovel likely wasn't a flourish of Trump's own doing—specialty spades are usually put to use on these sorts of occasions—and on at least one occasion, Michelle Obama also helped out with a tree-planting while wearing heels. Altogether, though, Trump's foray into the garden was executed in signature Melania form—particularly down to the way that she documented it, which was with a series of photos she tweeted that made no attempt to disguise her Louboutins, and which had been put through what we might as well now call the Melania filter, a contrast-heavy photo editing that she's stayed true to even when addressing topics like the opioid crisis. It may not be as beloved as Mobama's way of doing things, but Trump has succeeded at uprooting and putting her own spin on first lady style.
Related: Melania Trump's "I Really Don't Care" Jacket May Indeed Have Been a Message to Donald Trump
From Melania Trump to Jacqueline Kennedy, a History of First Ladies' Inauguration Day Style
First Lady Mamie Eisenhower, 1957

Getty Images